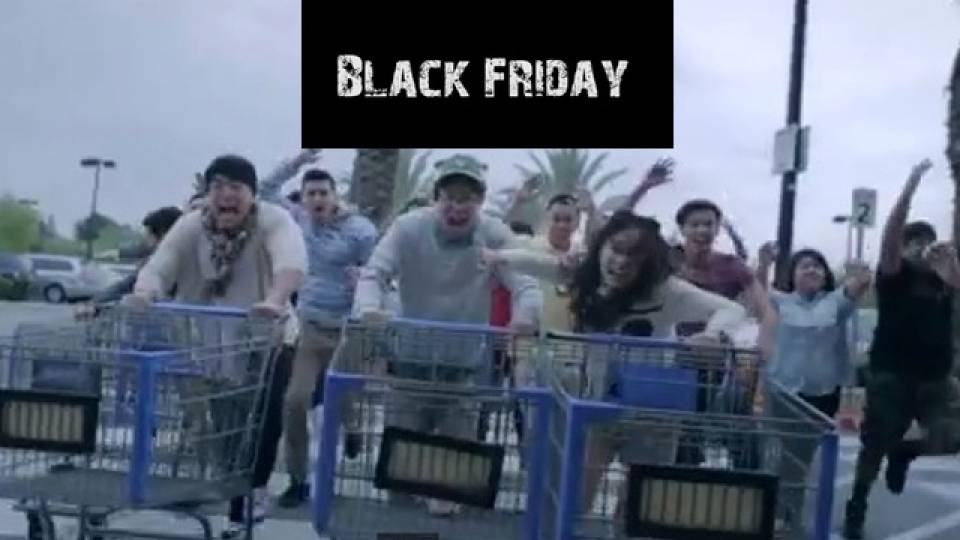 Thanksgiving is now known as two things: Thanksgiving and the day before Black Friday. The latter is the reason holiday sales have skyrocketed in the past 10 years or so. Stores everywhere slash their prices with ridiculous discounts that give people reason enough to brave the cold for hours at night waiting for their favorite stores to open so they can score some serious loot at incredibly discounted prices. We know many of you will participate, so we give the Black Friday newbies these 5 videos that we hope will help prepare you for what's in store. The Black Friday vets should already have a game plan set with their friends and family because - that's just how the shopping pros roll.
1. Official 'Black Friday' Movie Trailer Says It All
Thanksgiving is about giving thanks, or so we say as we gladly stuff our faces with all the wonderful edibles the holiday has to offer. It's also a time to cherish time with friends and family. But just one day later we tend to forget it all as the lines grow outside retail stores and prices on highly-covered items like television sets and gaming consoles are slashed. Just Kidding Films noticed this obvious hypocrisy, and decided to make a movie trailer about the consumer holiday that has become Black Friday.
2. Celebrities Are Adding Star Power to Black Friday Ads
We're starting to see more and more celebrities appearing in television ads for Black Friday sales. This year alone, we already have two celebs endorsing department and other clothing stores. The lads from One Direction star in Macy's Black Friday ad as they make fun of their hairstyles while casually promoting their fragrance "Our Moment." Then you have comedian Melissa McCarthy starring as a bubbly contestant on a Price is Right-like game show promoting Old Navy's Black Friday sales.
3. Black Friday Makes Normal People Do Strange Things
We can understand camping out for maybe a day or two for a concert or a one-of-a-kind show but camping out for over a week outside Best Buy? One family did just that a couple of years ago in Tampa Bay, Florida. They made the local news but their story begs the question: How much money could you possibly save that is worth a week of your life sleeping in a tent outside an electronics store? It's time to put things in perspective, my friends.
4. You Will Encounter Scenes Like This and (Sometimes) Take Part
This was the mob scene outside a Victoria's Secret store at the Woodland Hills Mall in Tulsa, Oklahoma last year. Watch as countless people shove their ways into the store as the employees open up shop. We're all about getting a smokin' deal, but are half-priced thongs and discounted bras really worth all this pushing and shoving?
5. You Trust Anyone Who Looks Like They Know What They're Doing
On Black Friday, emotions are running high, the adrenaline kicks in at first but then, without any warning, you start getting tired and perhaps you're not thinking too clearly anymore. That's what Jesse from Prank vs. Prank and Ryan from Ryan's Average Life counted on as they dressed up like Target employees last year and pranked some shoppers. A good deal is a good thing but looking like a fool is not a good look. Good thing most of the prankees in this video were good sports.