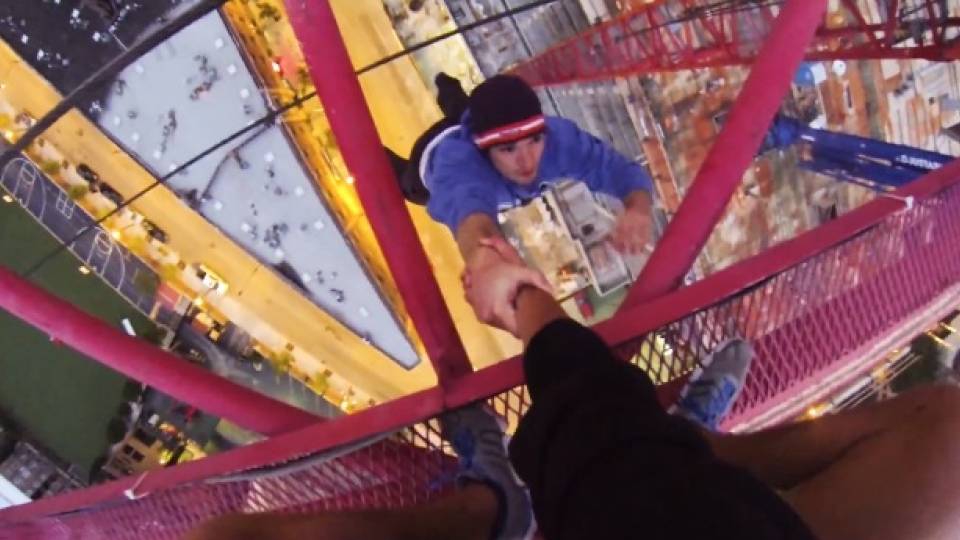 1. Look Ma, no hands.
Some people laugh at heights. This gentleman is able to hang from a construction crane hundreds of feet in the air. He then puts all his trust in his comrade; he hangs onto him, dangling above the busy street.
2. Crossing the Devil's Causeway in moccasins.
Some hiking trails that are more dangerous than others. This is the Devil's Causeway in Colorado. It is a bridge-like rock formation that is only four feet in width. Moccasins were probably the wrong choice of footwear...
3. Bare-handed shark wrestling.
Elliot Sudal has an interesting hobby. He enjoys wrestling sharks. Here, the 24-year-old is wrangling a 200 pound Sand Shark in Nantucket. Elliot says he's caught around 100 sharks.
4. Bicycling through a crowded tunnel.
Bicyclists take risks everyday when they hit the road. This one seems to have a death wish. If you think weaving in and out of traffic is dangerous for a car, try it with a bike. Then, up the ante by doing it in a busy tunnel.
5. Brawling for your team.
People take sports seriously in the United States... but that's nothing compared to how much Europeans value soccer. Two groups of opposing teams met on a road for a scheduled brawl. Would you physically fight for your team?