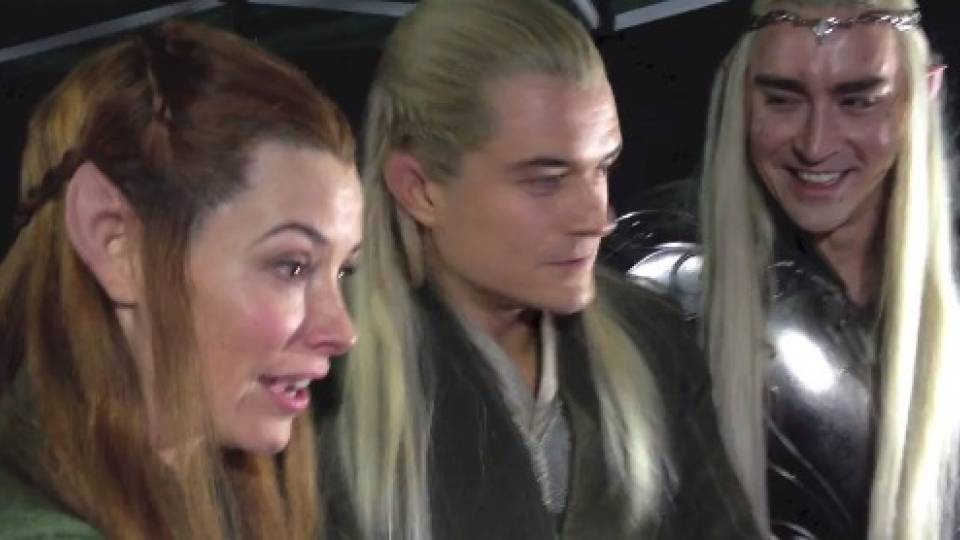 Fans' Crazed Reaction to "Hobbit" Trailer Gets Response From "Hobbit" Cast
After much anticipation, Lord of the Rings superfans Kellie and Alex (also known as "Kili" and "Fili") filmed themselves watching the new trailer for The Hobbit: The Desolation of Smaug and posted their crazed reaction to their YouTube page Happy Hobbit:
After the girls' reaction video (which was produced for the fansite TheOneRing.Net) went viral, Lord of the Rings Producer/Director, Peter Jackson saw it, and posted this on his Facebook page: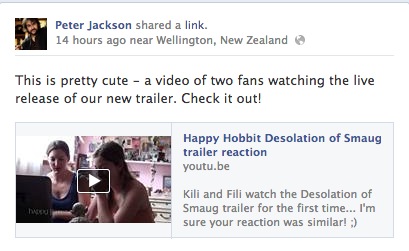 It gets even better. Then, Jackson decided to make these girls even more giddy (as if they weren't giddy enough!) and post a reaction video of his own, showing cast members Orlando Bloom (Legolas), Evangeline Lilly (Tauriel), and Lee Pace (Thranduil) reacting to well, their reaction.
The Facebook post: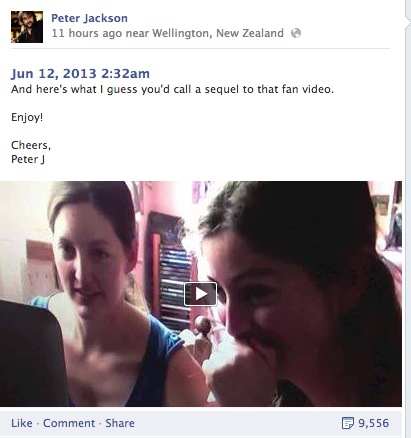 The amazing "meta" video by Peter Jackson shows the cast reacting, dressed in their elvish gear in between filming (it starts with the girls' video playing up on a big screen):
After the girls found out Peter Jackson responded to them, they posted ANOTHER reaction, of them watching the cast's reaction, appropriately titled "Hobbitception" because frankly, this whole thing is starting to be like the movie Inception. It's a video within a video within a video? Meta? Anyhoo, here is their second video, where they react to the cast's reaction and answer some questions:
Before the girls made their last reaction video above, we Skyped with them, asking how they felt when they heard Peter Jackson responded. Here is what they told us:
It has been a journey there and back again. Huzzah!
And finally, here is the official trailer for The Hobbit: The Destination of Smaug: