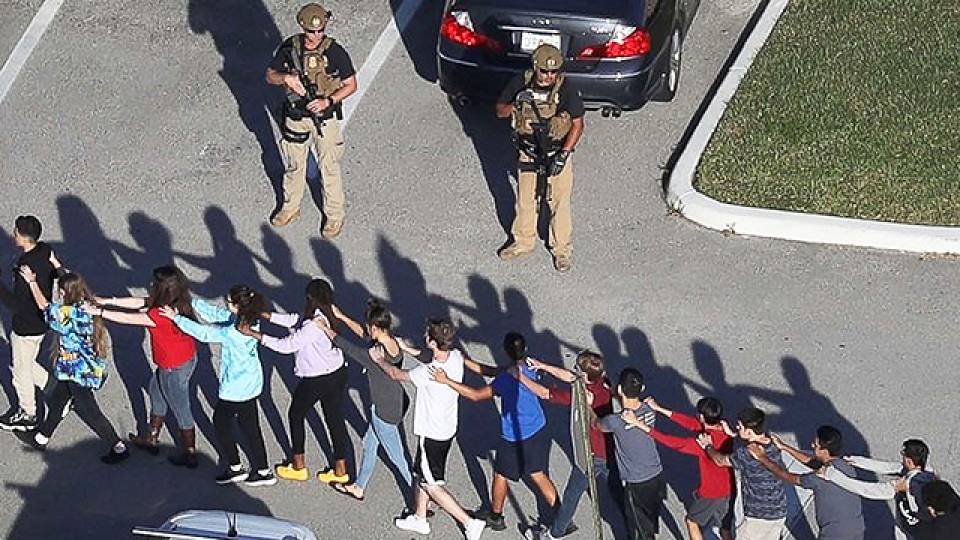 The Broward County Sheriff's Office is investigating a shooting at the Marjory Stoneman Douglas High School in Parkland, Florida. At least 17 people are dead, according to ABC News. The shooter is now in custody but was not a current student. Law enforcement officials are reporting the shooter is 19-year-old Nickolas Cruz, who reportedly had been expelled.
BREAKING: Mike Quaranta took this video of the alleged school shooting suspect being taken into custody. @abc reporting at least 15 people are dead. @abcactionnews pic.twitter.com/lTNjICvSAh

— Griffin Frank (@GriffinFrank) February 14, 2018
#NEW: Longer video of suspect arrested @wsvn pic.twitter.com/2ZHmCd69rV

— Franklin White (@FranklinWSVN) February 14, 2018
Suspect lead into police station following deadly shooting at high school in Parkland, Florida; at least 15 people are dead, law enforcement officials tell @ABC News. https://t.co/1itMwE4Kku pic.twitter.com/h9rLtA26NY

— ABC News (@ABC) February 14, 2018
Footage shows SWAT team members on scene and students fleeing the school.
Video shows students hiding under overpass in the aftermath of deadly shooting at South Florida high school. https://t.co/1itMwE4Kku pic.twitter.com/goBbExFDRt

— ABC News (@ABC) February 14, 2018
Students exit Florida high school carrying Valentine's Day balloons amid deadly school shooting. https://t.co/4QuB0Hghrp pic.twitter.com/IZd8IQznp7

— ABC News (@ABC) February 14, 2018
Photos show inside of Florida high school as students shelter during school shooting. https://t.co/BuEAqGjCN1 pic.twitter.com/kv514gZpb0

— ABC News (@ABC) February 14, 2018
Emergency responders evacuate students sheltering in place in an auditorium during shooting incident at high school in Parkland, Florida. https://t.co/BuEAqGjCN1 pic.twitter.com/gKjQbu23kM

— ABC News (@ABC) February 14, 2018
Students at Stoneman Douglas High School in Parkland, Florida file out with their hands up amid reports of a shooting at the school. https://t.co/O0pXTKDQ3y pic.twitter.com/bSxMoDVW9t

— ABC News (@ABC) February 14, 2018
Students at Stoneman Douglas High School in Parkland, Florida flee amid reports of a shooting at the school. https://t.co/O0pXTKDQ3y pic.twitter.com/s53xK8mcBp

— ABC News (@ABC) February 14, 2018
DEVELOPING: Police are responding to reports of a shooting at Stoneman Douglas High School in Parkland, Florida. Aerials show SWAT and medical personnel on the ground, students being evacuated from the school. https://t.co/oTncgG8W7h pic.twitter.com/pLY5dOFgVA

— World News Tonight (@ABCWorldNews) February 14, 2018
Steady stream of swat and police officers walking and running into Douglas high school @CoralSpringsFL @Coralspringsfla @StonemanDouglas pic.twitter.com/A1e1dRBSp3

— Grumpyhaus (@Grumpyhaus) February 14, 2018
Today, close to Marjory Stoneman Douglas High School's dismissal, students and staff heard what sounded like gunfire. The school immediately went on lockdown but is now dismissing students. We are receiving reports of possible multiple injuries. Law enforcement is on site.

— Broward Schools (@browardschools) February 14, 2018