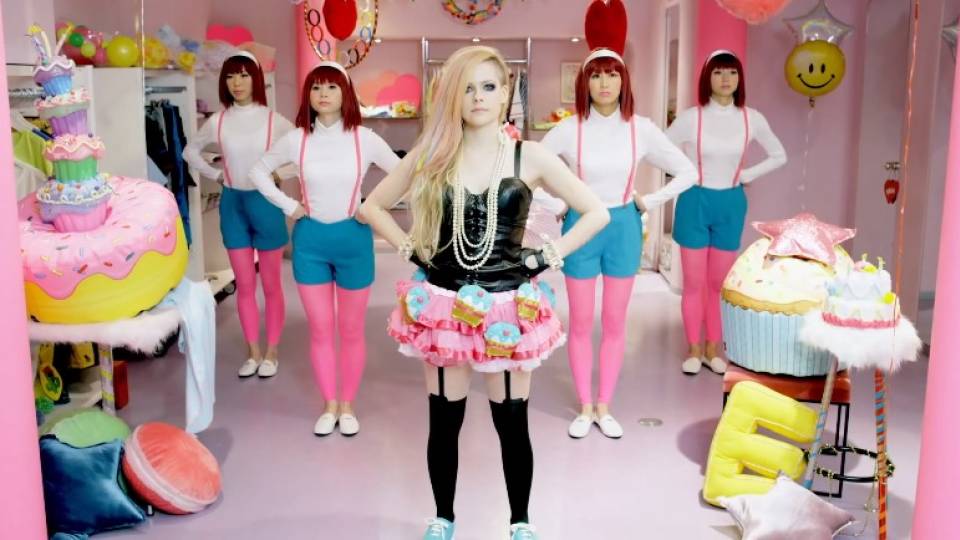 The official music video for Avril Lavigne's song "Hello Kitty" has almost 20 million views on YouTube, and 240,000+ people gave it the thumbs up, but it's gotten a lot of negative attention. People are accusing her of fetishizing Japanese culture, not being racially sensitive, and of all around WTFness.
Here's the official music video for your viewing pleasure:
Now that you've seen the video that everyone's talking about, let's break it down a little, shall we?
The song starts out with Avril exclaiming "mina saiko, arigato!" (More properly written out as "minna saikou, arigato!") Which is also the first graphic of the official lyric video: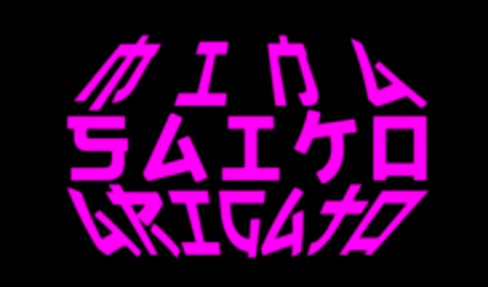 Loosely translated from Japanese it means "Thanks, everyone!" or "You rock," which is fine. Her pronunciation isn't even that terrible. The issue comes from the fact that actual Japanese characters were used as a font style, instead of, you know... the sounds and letters they are intended to represent. To a Japanese speaker (or semi-reader, like myself), this phrase looks more like "kineumu kimuetero mua,ewamumero" which, uhm, is gibberish... especially considering that some of the characters are skewed, rotated or reversed to achieve the look of letters from the English alphabet. [I'd also like to note that my name is "Mina Saito" and it kind of looks like she's thanking me personally... which is weird.]
The addition of "kawaii!" after this phrase doesn't really help either, as it translates to "cute," making the entire first line "You rock! Cute!" which doesn't even make great sense in English.
Okay, so using a different language as a font isn't a crime, it's just a little silly... and so are the lyrics.
It's time to watch the (kind of trippy) lyric video now, if you have it in you to hear the song again:
Still with us? Great... now about those lyrics.
The song seems to be about an innocent enough, yet presumably co-ed slumber party with lots of candy, pillow fights, and a little game of spin-the-bottle. The chorus also eludes to the fact that cats might be involved. Except, this is only if you take the words at face value. It might just be an unfortunate coincidence, but cats are sometimes used as euphemisms for other things. If you dare, imagine the song being sung by a grown man and the lyrics suddenly turn very dark. Like a windowless van dark. Not to mention the possibly suggestive image towards the end of the lyric video.
Alright, so innuendo in the guise of catchy pop is fine too. It's actually pretty nice compared to the more vulgar alternatives out there. At least this is kid friendly in the "it'll just go over their heads anyway" way. But what do kids think about this song? Do they at least like it?
TheFineBros endeavored to find out:
And the answer is mostly "no." But why? It's maybe kind of catchy and slightly visually interesting... besides the part where Avril and her Asian posse are walking down the street waving at... buildings? (We're not sure, really.) But even kids, who aren't overly worried about potentially negative racial overtones and lyrics that may or may not make sense, (they were more concerned with the fact that Hello Kitty was nowhere to be found) could feel it...
Something's not quite right.
Thankfully, Girl Pants Productions might have the perfect explanation:
Oh, okay, so it's just a bastardization celebration of (a very narrow part of) Japanese culture, and it could have been way worse. Got it.
P.S. Avril Lavigne hates fat people.*
*This is not, in fact, a fact, but a mere assumption due to the "Smarties" line.
P.P.S. If you think there wasn't thought put into this music video you're wrong, as demonstrated in the series of short behind-the-scenes videos (Part 1, Part 2, and Part 3).