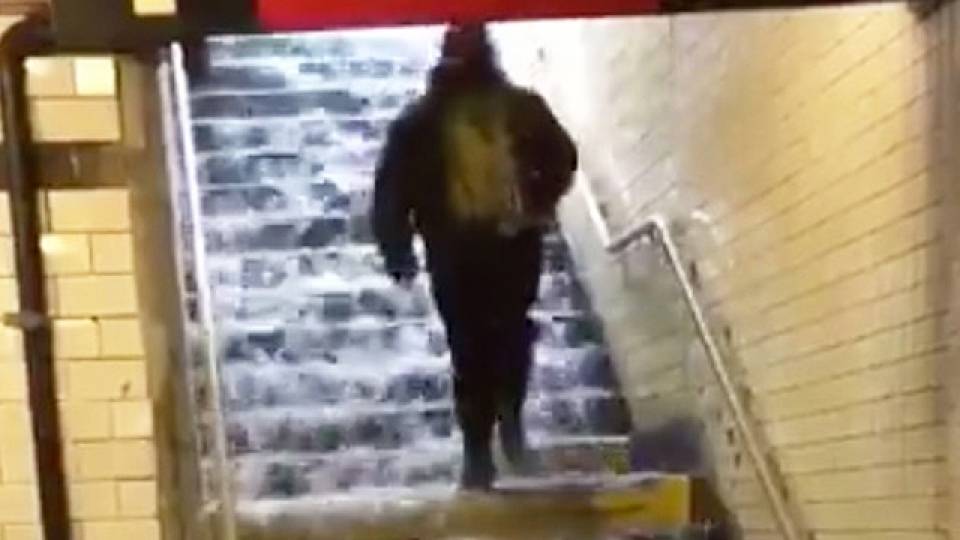 It looks like a scene out of "Titanic" or some kind of disaster movie, but flooding above and below ground was a reality for New York City commuters on Monday. At least 3 inches of rain over a period of six to eight hours caused intense rain and flooding, affecting subway stations and causing delays.
We'll keep staircases and other station areas open as long as it's safe to do so, but please be careful as you enter and exit trains. (2/)

— NYCT Subway (@NYCTSubway) April 16, 2018
The New York City Subway's explanations didn't appease those dealing with the crazy weather.
scenes from 145th st/broadway. @NYCTSubway @MTA @NY1 #justalittlerain pic.twitter.com/vUYed8Se6g

— josh guild (@jbguild) April 16, 2018
Gotta love Mondays in New York pic.twitter.com/yn0uZC9GlZ

— Siri (@schilukuri1) April 16, 2018
Good morning and welcome to hell pic.twitter.com/EJ39NBwr7R

— Jeremy Barr (@jeremymbarr) April 16, 2018
Rain Room but without the line! @MTA pic.twitter.com/RUBudFPehn

— Mathias Kook (@Mbkook24) April 16, 2018
Glad I brought my umbrella today for the rain storm INSIDE 42nd st station. This is unacceptable @MTA ! @NYCTSubway #getittogether #rain #mtasucks pic.twitter.com/Kt5iwqJSMD

— Krista Feierabend (@atsirk410) April 16, 2018
The coolest thing about living in New York is when the subway floods and I arrive to the office looking like an extra in "The Day After Tomorrow"

— BIG COL(in) (@TheRealC_Max) April 16, 2018
A chorus of mobile phones singing flood alerts on the @MTA is just the extra seasoning this morning needs.

— Thomas L. Strickland (@ThomasLS) April 16, 2018
I may stand corrected but I was under the impression it was not supposed to rain UNDERGROUND where the subway runs, correct?

— Mia Aquino (@SocialMia) April 16, 2018
We're hoping this all gets fixed very soon!