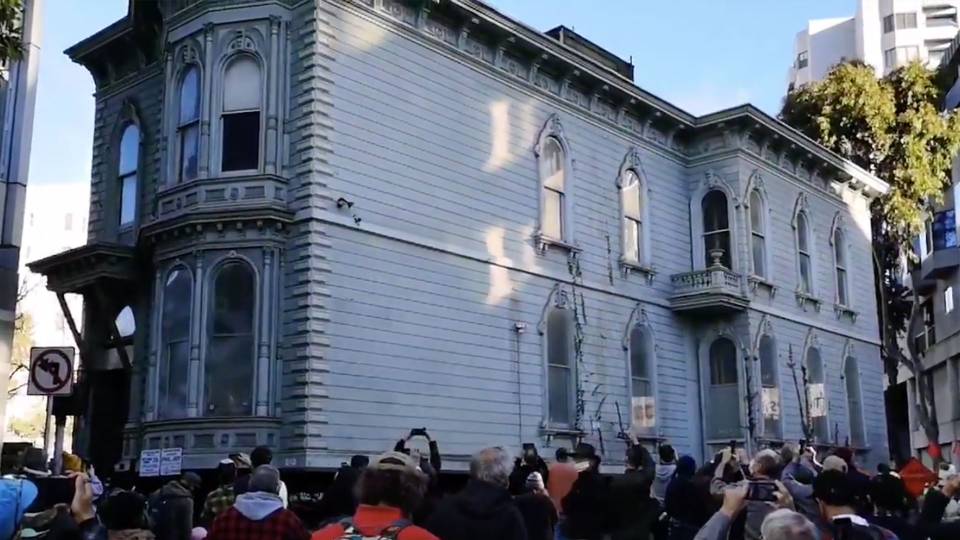 Moving houses is a common affair, but houses moving is not something you see everyday! Over in San Francisco, the historic Englander House caused quite a stir as it was transported to its new address to become single family housing units. This is the first time since 1974 that a home like this has been moved in San Francisco. Austin Elliott captured footage of the two story, 140-year-old home slowly rolling through the city.
Ok, watching a 140-year-old full-on Victorian mansion cruising through the city streets is hands-down one of the top wildest things I've ever witnessed.
The Englander house moving from Franklin St to Fulton St this morning in SF pic.twitter.com/kqbyiy62ke

— Austin Elliott (@TTremblingEarth) February 21, 2021
Moving an entire house, especially a historical one, is a long and painstaking process. Streets had to be closed, powerlines and parking meters were temporarily removed, bus lines were rerouted, and dozens of city workers pitched in to get the job done. Karl Mondon shared a timelapse of the move.
Timelapse video of 2-story Victorian house moving on the streets of San Francisco today.
Had Lt. Frank Bullitt been driving that truck it would have taken less than 4 hours to go the 8 blocks. pic.twitter.com/A60jOuJFJ4

— Karl Mondon (@karlmondon) February 22, 2021
Many San Franciscans are happy to see that a building of such historical significance can continue to be used, even if it's in a brand new location. This was definitely an event for the history books!