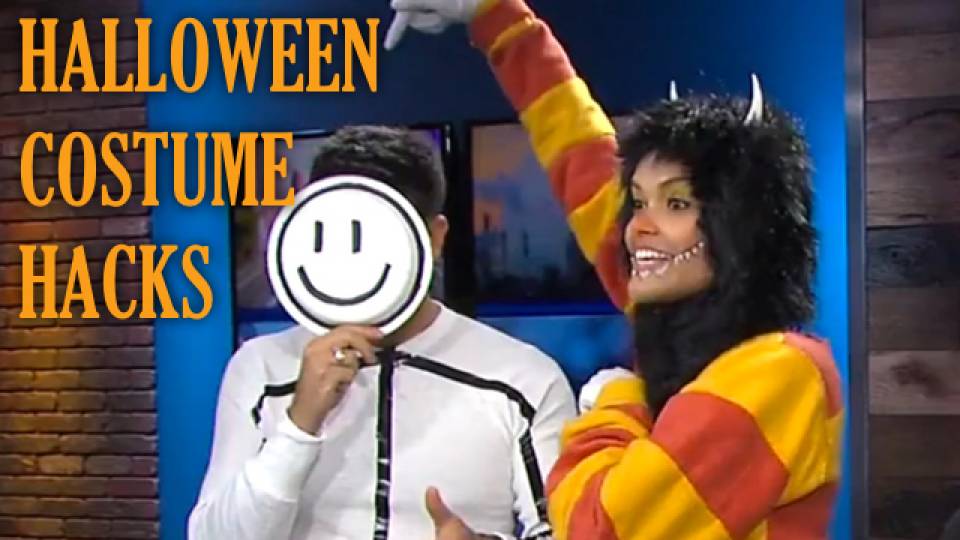 It's October 30th — do you know where your Halloween costume is? If you just realized all you've got to wear to the weekend festivities is last year's Frozen costume, don't worry — Jessica Hord has got you covered. So feel free to toss out that old costume (seriously, let it go) and try one of these five last-minute costumes that are guaranteed to score you some major compliments.
COSTUME INSTRUCTIONS
1. FASHION DON'T

You'll Need:
-- Glasses to Glue Black Strip Over
-- Black Construction Paper
-- Hot Glue Gun
-- Hot Glue Sticks
-- Double Sided Tape
-- Scissors
-- Ruler
-- Wacky Outfit
-- Cardboard
-- Printer or Thick Red Sharpie
-- Paper
Instructions:
1. Print & cut "DON'T" sign (OR draw it out) and use the double-sided tape to tape it to the cardboard.
2. Cut a black strip of construction paper thick & long enough to cover the glasses.
3. Measure where each hole should go to see through glasses & cut.
4. Hot glue black strip to glasses, put on wacky outfit, hold sign and you're done!
2. STICK FIGURE

You'll Need:
-- White Top (A top with long sleeves works best.)
-- White Bottoms
-- Black Electrical Tape
-- Thick Black Sharpie
-- Paper Plate
-- Scissors (If you'd like to cut out the eyes.)
-- String, Ribbon, Etc.
Instructions:
1. If you have someone who can help, put the bottoms and top on -- have them "draw" a stick figure with the electrical tape. You can also do this on a flat surface alone.
2. Draw a smiley face on the paper plate.
3. If you'd like to wear the face as a mask; cut out the eyes and secure string, ribbon, etc. with electrical tape to the back. You're done!
*Inspired by: All For the Boys
NOTE: YOU CAN DO A WOMAN'S VERSION TOO! JUST ADD A TRIANGLE FOR A SKIRT!
3. WIND-UP DOLL

You'll Need:
-- At Least A 9" X 9" Scrap of Cardboard
-- Paint
-- Large Tape Roll (Think masking or duck tape.)
-- Spool of Thread
-- Pencil or Pen
-- Paintbrush
-- Scissors
-- "Skinny" Belt (Shouldn't measure more than 1/2 an inch in width.)
-- Half of an Empty Paper Towel Roll or Empty Toilet Paper Roll
-- Ruler
Instructions:
1. Trace the outside of the tape roll on the left side of cardboard. Trace again on the right side, overlapping the other circle by about 1/2 an inch. When you're done tracing it should look like a Venn diagram.
2. Create a circle in the center of the bigger circles by tracing a spool of thread.
3. Now put your empty roll between & below the two sets of circles and mark the sides for your key "stem".
4. Cut around the circles and stem and then carefully cut out the inner circles.
5. Paint both cardboard pieces and let dry.
6. Once dry, gently squeeze empty roll so you can cut two slits on opposite sides, about an inch from the bottom. Make each slit at least the size of belt width.
7. Insert belt through slits.
8. Now try to put your flat cardboard shape into the empty roll and belt. If it doesn't fit, trim a little from each side until it fits snuggly.
9. Fasten belt around you, making sure wind-up key is in the center of your back and you're done!
*Inspired by: eHow
4. PINEAPPLE

You'll Need:
-- Yellow Dress or Yellow Top & Bottoms
-- Green Construction Paper (You can also use green poster board or paint or color white paper green too!)
-- Empty Toilet Paper Roll
-- Ribbon (If it's green even better.)
-- Hot Glue Gun
-- Scissors
Instructions:
1. Cut leaves ranging from 12" to as short as 3".
2. Gently curl the top of the leaves with your fingers.
3. Start hot-glueing the longer leaves to the top of the empty roll. Work your way down using shorter and shorter leaves until you can no longer see the empty roll.
4. Cut your ribbon so that it's long enough to tie around your head.
5. Cut ribbon in 1/2 and hot glue one end of each piece to opposite sides of the inside of the empty roll.
6. Put on yellow ensemble, tie on green head-piece, and you're done!
*Inspired by: Studio DIY
5. STATIC CLING
You'll Need:
-- Random Clothing Items
-- Safety Pins
-- Dryer Sheets
-- Black Top
-- Black Bottoms
Instructions:
1. Safety pin random clothing items and dryer sheets to top and bottoms -- you're done!
*Inspired by: Money Crashers