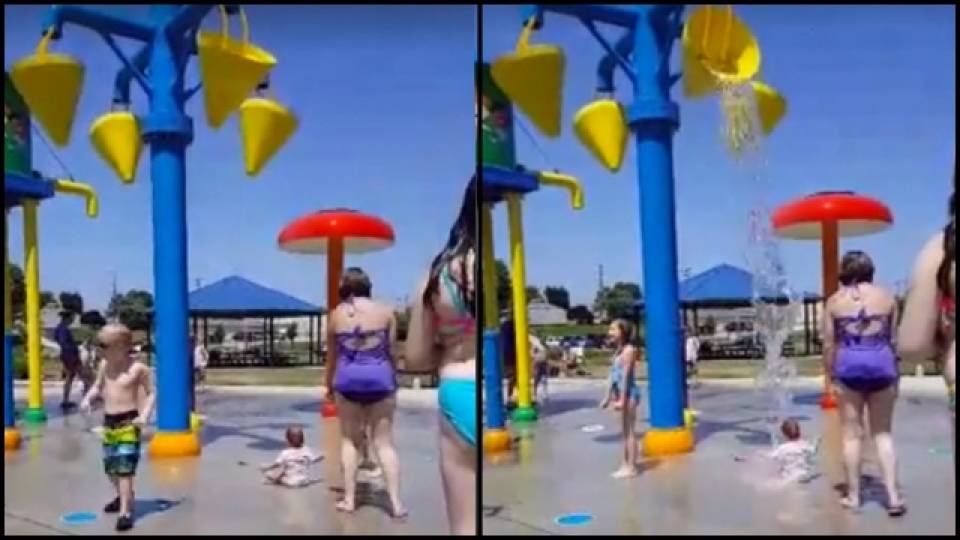 A Indiana woman is under fire for allegedly placing a months-old girl under a bucket with gallons of water in it.
Brittany Dixson was sitting at work last week when she came across a video on social media of a baby sitting under a dunk bucket at a Indiana waterpark.
The Facebook caption read: "You have got to be kidding me!!!!! She is abusing this child. Baby is crying. And swallowing this water. Pray this baby won't drown in her sleep!!! She has been yelling at her telling her to get over it. Its part of being a kid. Heard this baby is only 7 months old....AND NOT HERS!!!!! SHARE SHARE SHARE!!!!!"
Dixson was initially horrified that someone would put such a young child underneath so much water, but upon further speculation she realized it was—in fact, her own daughter, Annora.
The concerned mother immediately fired the babysitter and took her child to the emergency room to get checked out. Luckily, the infant is OK and Dixson forgave the woman for her "poor judgement."
The police and child services are investigating the incident, but no additional information has been released.