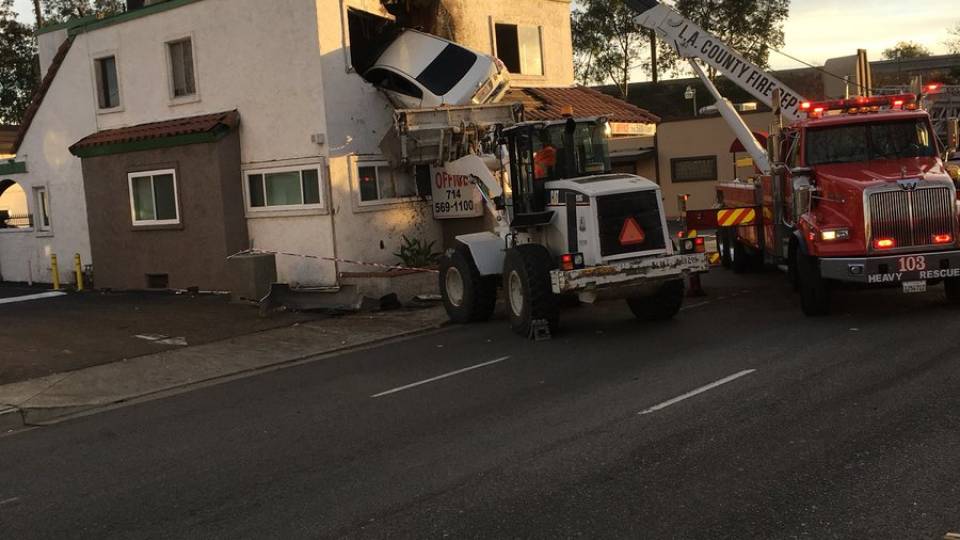 How does it even get up there?! People are scratching their heads after a vehicle went airbourne and slammed into a dental office on the second story of a building in Santa Ana, California. A surveillance video shows how the driver of the white Nissan Altima lost control and crossed three lanes before hitting a center divider and soaring into the air, according to ABC7.
Photos show the precarious position of the car hanging out of the building.
OCFA in Santa Ana of a vehicle that crashed into the building. The fire was quickly extinguished, both victims are out of the vehicle safely with minor injuries. Members from OCFA & LA COUNTY Urban Search & Rescue teams are removing the vehicle from the building. pic.twitter.com/x29WvTkNGk

— OCFA PIO (@OCFA_PIO) January 14, 2018
Dashcam from a bus driving nearby shows a very scary sight!
The driver was arrested and appeared to be impaired after being rescued from the car. A passenger got out of the car unassisted despite minor injuries from a small fire that started.