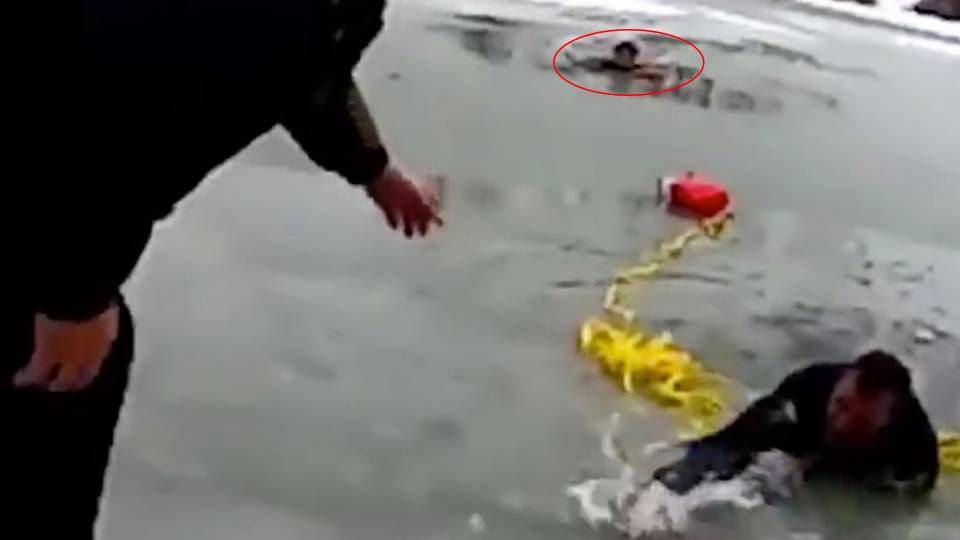 Two terrifying rescues through the ice caught on camera in Toledo, Ohio. The footage comes from the Toledo Police Department after officers tried to save a teen who had fallen through an icy pond but ended up falling in themselves.
"You can hear it cracking."

Tense bodycam footage shows Ohio police scramble to rescue a teenager – and a fellow officer who fell through the ice of a frozen pond while trying to save the teen. Officers ended up forming a human chain to free the teen. https://t.co/c1qAAWPg3v pic.twitter.com/aEN3boYTLo

— ABC News (@ABC) January 25, 2019
The fire department arrived soon after, and the teen and one of the officers were taken to the hospital for possible hypothermia, according to the Toledo Blade.
One officer is being treated for exposure & two others are warming up after falling through the ice in a North Toledo pond. Officers were working to save a teenager that fell in. Thankfully, all will recover. Nice work @ToledoFire & the 11 yr old that ran for help! pic.twitter.com/EztwkPIe9Q

— Toledo Police (@ToledoPolice) January 18, 2019
Toledo Fire & Rescue is reminding residents to please stay off the ice in the future.
PLEASE STAY OFF THE ICE!#ToledoFire responded to 2 separate ice rescue incidents in less than 2 hours. 2 civilians & 3 @toledopolice officers treated for exposure. This time a tragedy was averted but next time we might not be so lucky. So please, #stayoffthe! pic.twitter.com/QW2IcAFzFc

— Toledo Fire & Rescue (@ToledoFire) January 18, 2019