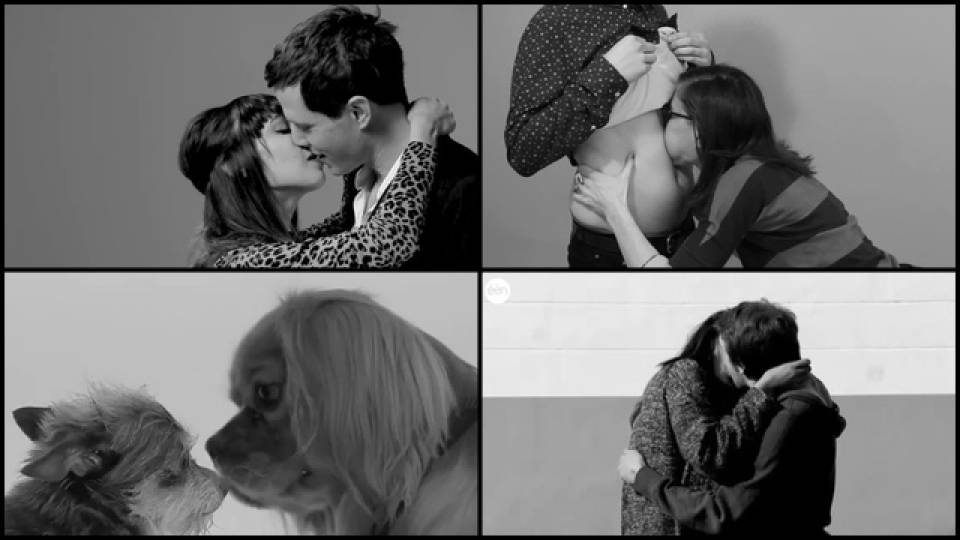 This may be the first viral video to go viral in just one day and spawn a number of parodies and spoofs all within the same week. First came the original First Kiss by Tatia Pilieva. The following day we learned it was a marketing ploy for a new clothing line. By then it was too late and the floodgates had burst wide open. We give you the mega-viral video by Pilieva and its subsequent parodies starring real strangers, dogs, belly buttons, and male body parts.
The First First Kiss
Kissing for the first time can be awkward as it is, now imagine doing it while cameras are rolling. That's what Tatia Pilieva played on for her short film where 20 strangers kiss for the first time. The video turned out to be a marketing ploy for a clothing line. It garnered millions of views overnight and spawned a number of parodies in the days following its release.
The First Real Kiss
After it was revealed the instant viral video First Kiss was a marketing ploy, Kobe Ilsen of the Belgian TV show VOLT actually did find strangers to kiss. They hit the streets of Antwerp and conducted a social experiment of their own.
The First Gay Hug
UnsolicitedProject also wanted to get in on the action with a slightly different take on the "experiment," so they conducted one of their own. They found several reportedly homophobic individuals and asked them to hug gay strangers. Nothing weird, just a quick hug from someone they didn't know.
The First Real Kiss Pets Parody
We can't leave out our furry friends! Thank you to Mother London for this adorable pets parody appropriately titled the First Sniff. It's not any less romantic than any of its other counterparts. Just sayin'.
The First Ridiculous Real Kiss Parody
First let us say thank you to Simply Unemployable for thinking of this hilarious spoof. You can't have a proper viral video without a downright ridiculous version. You've seen the First Kiss, the Real First Kiss, the First Sniff, and now we give you... First Raspberry.
The Very First Paid and International First Kiss Parody
The Brits wanted in on all this First Kiss fun, especially after we all learned we had been duped. Vice hit the streets, found 20 strangers who are not models of any sort, and gave them £20 to smooch.
The First Food First Kiss Parody
We were waiting for this one... From CollegeHumor comes the "First Kiss" parody where 10 strangers eat different sandwiches for the first time. Yup.
The First Gross-Out First Kiss Parody
There can't be a viral video without Funny or Die somehow becoming a part of it. This parody video of the First Kiss is most definitely toilet humor - literally.
The Very First First Kiss Parody That We Can't Even Show You
The dirty (yet clever) minds at Pimm's Girl Comedy were the very first ones to jump on the First Kiss parody train. Not even a day after the first one went live, this troupe released the First Handjob. It is naughty, suggestive, and downright inappropriate but all that doesn't make the video any less funny. Watch at your own risk. This is not intended for young audiences, and all that other stuff you're supposed to say to warn you that you're about to see something that's most definitely NSFW.
Watch the video HERE.