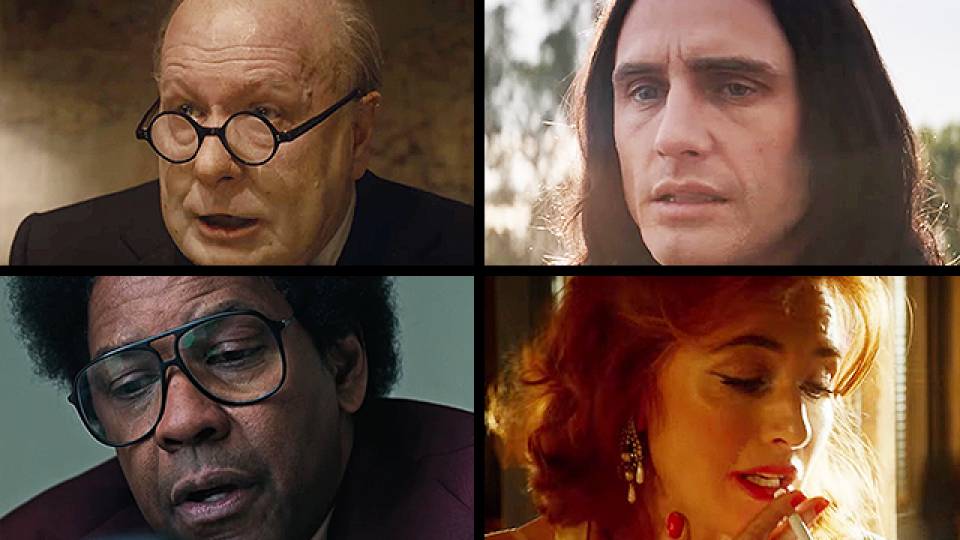 The Darkest Hour: A
In "Darkest Hour," Gary Oldman gives a commanding performance as Winston Churchill as he is made prime minister of England in 1940 as the island nation once again faces world war. He doesn't have the complete support of the crown or his own party, but what director Joe Wright shows is how Churchill had the unmistakable statesmanship that eventually galvanized his king and country. I recommend a "Darkest Hour"/"Dunkirk" movie night for fellow history buffs.
The Disaster Artist: A-
Imagine, if you will if the guys from "Dumb & Dumber" had millions and millions of unlimited funds? That's the feeling some may come away with watching James Franco star in "The Disaster Artist" which he also directed. You'll alternate between cringing and guffawing of this drama-mentary about the making of the 2003 film "The Room."
"The Room" is a notoriously bad film written by and starring Tommy Wiseau, featuring a plum part for his friend Greg Sestero. It has garnered cult film status, with crowds heading to theaters to recite the famously laughable dialogue much like devotees of "The Rocky Horror Picture Show." Wiseau and Sestero meet in acting class. Striking an instant friendship not long after, the vampiric looking Wiseau invites Sestero to move to Los Angeles to live in one of his apartments and follow their dreams to stardom.
Wiseau is an oddball of enigmatic origins. He claims to be from N'awlins, but he's more from across the pond than across the swamp. Wiseau is also unbelievably wealthy enough to fund his own film. Franco is decidedly fascinating and hilarious in the role. Seth Rogen is solid comic relief as part of Wiseau's production team dumbfounded by the fact that the writer can't remember his own lines or can make payroll. And the film is so well done, one need not see "The Room." Definitely one of the years quirkiest, enjoyable films.
Roman J. Israel, Esq: B
If you're a fan of Denzel Washington, there is much to like in "Roman J. Israel, Esq." Washington is the titular character who finds himself on the uncomfortable end of change. Israel is a legal dilettante, and the audience can infer he is likely someone who could be classified as high-functioning on the autism spectrum due to his ability to quote legalese chapter and verse. While the trailer makes this film seem as if it is some kind of action drama, it's merely the story of one unusual man making a life-defining ethical compromise in response to the disappearance of the familiar. Washington is the strongest part of a story that leaves some elements unexplored and includes some that are unnecessary, but it is solidly engaging.
Wonder Wheel: C+
One of the few reasons to see Woody Allen's "Wonder Wheel" is Kate Winslet's performance as a failed actress turned Coney Island waitress. She's disappointed in her working-class husband and has a firebug young son. Having a beautiful stepdaughter doesn't help the situation. Enter a younger, dashing lifeguard (Justin Timberlake) and a rather benign drama of a love triangle begins. While shot quite nicely, this is movie seems to be working out something of the Allen mystique that falls flat.