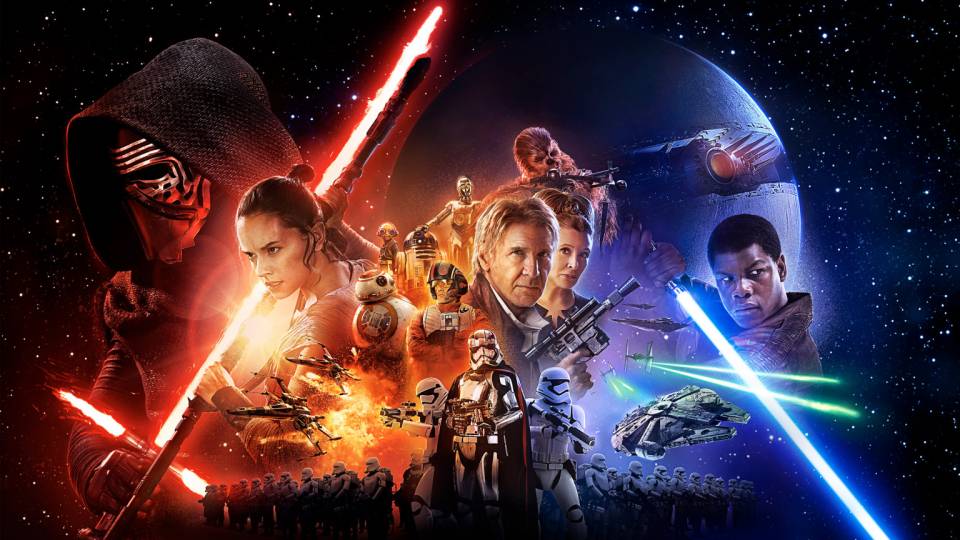 NOTE: This is a spoiler-free review.
For those who've never seen any of the films and only know good guy Luke Skywalker and bad guy Darth Vader by name, there is a wealth of history sprinkled in to catch people up. Here's a primer: The Resistance = good. The Empire = bad. That's all you need to know.
There is a droid they're all looking for in Star Wars Episode VII: The Force Awakens. Yes, that is familiar territory for those who've been following the Star Wars series from its beginnings in 1977 and ultimately this film's strength. This film takes place decades — literally and figuratively — after Return of the Jedi (Episode VI). The droid is on the run with critical information for the Resistance. Of course, those on the Dark Side of the Force want to get it. The Sith have failed, Darth Vader is dead. And now we have the extra-temperamental and powerful Kylo Ren and the First Order seeking to do what Vader failed to — crush the rebellion with that information. Oh, and the Death Star? Child's play compared to the new weapon the big, bad Empire has come up with. And they show if off in a style that channels Leni Riefenstahl to make sure you know just HOW dark the dark side is.
The droid, BB-8, capably channels the nostalgia that makes this film feel like a continuation of Episodes IV-VI, more so than Episodes I-III (Phantom Menace through Revenge of the Sith). There's a certain protectiveness this droid engenders from Rey, our heroine who earns her keep collecting parts on the desert junk planet Jakku. She also collects a "broken" storm trooper Finn as her adventure in this serial begins. We meet familiar characters along the way. Han Solo, Chewbacca, Leia and others are there.
Director J.J. Abrams carefully navigates the old (the look and feel of the film) while introducing us to new characters who carry on the story with adept humor (and there's quite a bit), family drama and light-speed action. Yes, there are fun military dog fights at hyperspeed. While I felt some on the dark side were a bit cartoonish and had a bit of a problem with some of the science behind the big bad weapon, this is still just a movie and a pretty entertaining one at that.
Previous 'Gayle on Film' Posts: