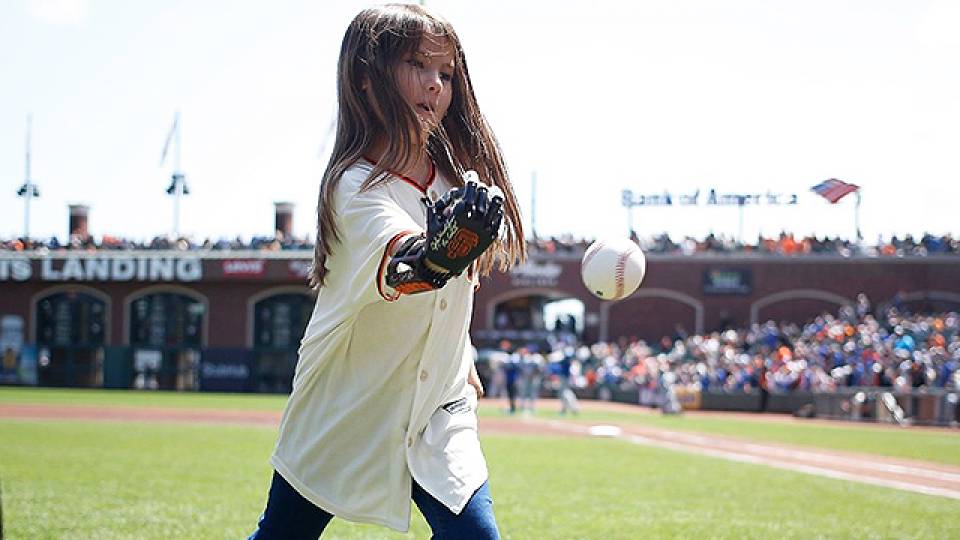 Watch out world, it's the newest baseball superstar, Hailey Dawson! The 8-year-old is making waves online and in the sports world for her incredible performance throwing out the first pitch at a San Francisco Giants baseball game.
Way to go, @haileys_hand!

First words after her first pitch? "I dabbed." #JourneyTo30 | #SFGiants pic.twitter.com/2BxF4hU5jA

— San Francisco Giants (@SFGiants) April 8, 2018
Hailey wears a prosthetic 3D printed hand due to a genetic disorder named Poland syndrome, and she's on a mission to throw out 30 ceremonial first pitches at baseball stadiums all around the country this year.
Hailey did a great job with the first pitch and an amazing Post pitch "Dab" right after... Happy to have you here with us! Good luck with the rest of your tour of all 30 @MLB parks #TogetherWeAreGiant #ATTPark pic.twitter.com/CDgpOsF9Jb

— Lou Seal (@LouSeal01) April 8, 2018
Hailey and her family hope her incredible strength and perseverance will inspire others with similar differences and shed some light on Poland syndrome. Hailey's mom even says other people have gotten hands because of her. Way to go, girl!
The REMARKABLE Hailey Dawson threw out the first pitch today. Nice work, @haileys_hand!#JourneyTo30 | @BankofAmerica | #SFGiants pic.twitter.com/qBpATlEUU9

— San Francisco Giants (@SFGiants) April 8, 2018