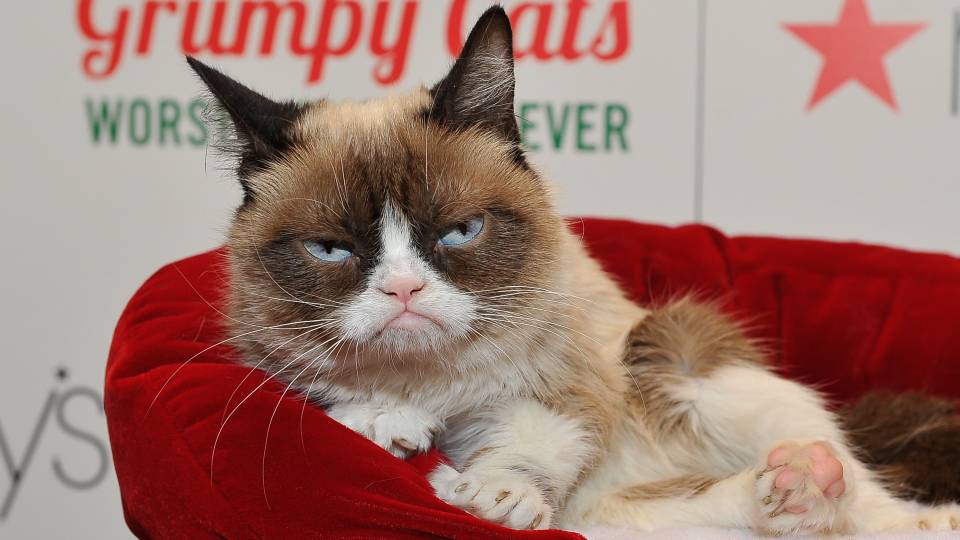 It's hard to argue with the fact that likely no one — human or animal — has had a more successful and lucrative past two years than the famous feline Grumpy Cat, whose real name is Tarder Sauce. According to a report by the British tabloid The Daily Express, the cat has raked in about $100 million for her owner and family through multiple vehicles, including best-selling books and a feature film. Ben Lashes, Grumpy Cat's manager, also told the Hollywood Reporter that the cat has generated about $100 million in revenue.
"I was able to quit my job as a waitress within days of her first appearance on social media," her 28-year-old owner Tabatha Bundesen of Morristown, Ariz., told Express, "and the phone simply hasn't stopped ringing since."
Bundesen told The Huffington Post that the report of the cat making $100 million is not accurate, though she declined to state the exact earnings brought in by the cat.
How much is $100 million in two years? Put it this way: Derrick Rose of the Chicago Bulls made $76 million between 2013 and 2014, according to Forbes. According to the magazine, Gwyneth Paltrow earned a tad less than $19 million last year.
Regardless of the exact amount the cat has made, she's doing really well, and her family is a lot more comfortable and happy now than before the fame. If it wasn't for the dwarfism and underbite that gives Grumpy Cat her now-famous face, she'd probably be smiling ear to ear knowing how much money she's raked in, even if we don't know exactly.
We featured Grumpy Cat on our show two years ago. "I'm going to call this cat, Grumpy," Gayle said. We knew the adorable cat's facial expression was something special at the time, but could not have guessed how big she'd get.
Shortly after Tarder Sauce made her first appearance on the Internet and TV, the world fell in love with her, despite the fact that she actually isn't that grumpy. As we found through a Skype Interview with her owner, Grumpy Cat has a brother named Pokey who is actually the grumpier of the two.
Grumpy Cat is everywhere these days. Yes, she has more than 500,000 followers on Instagram and more than 250,000 on Twitter. Her YouTube page has more than 16 million views. But she also is featured in her own Christmas movie this holiday season and she's the face of Friskies. She's on what seems like every other meme online. Her most recent deal is for her own brand of iced coffee, Grumppuccino.
Now that Grumpy Cat is a celebrity, everyone wants to meet her. Hollywood A-listers are practically lining up to take photos with Tarder Sauce.
Even our own former RTM host Steven Fabian got some hang time with the cat.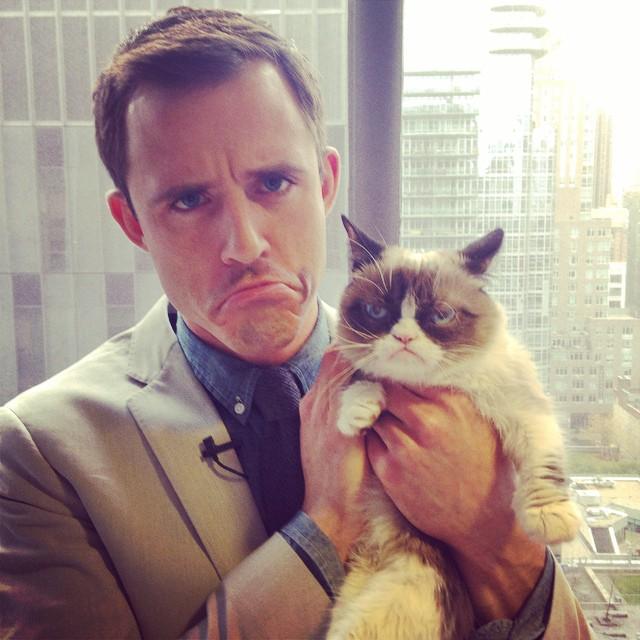 Whether she's brought in $100 million for her family, her worth goes far beyond monetary value, and we'll continue to love that Grumpy Cat's frown will always bring a smile to our faces.
And that's truly priceless.