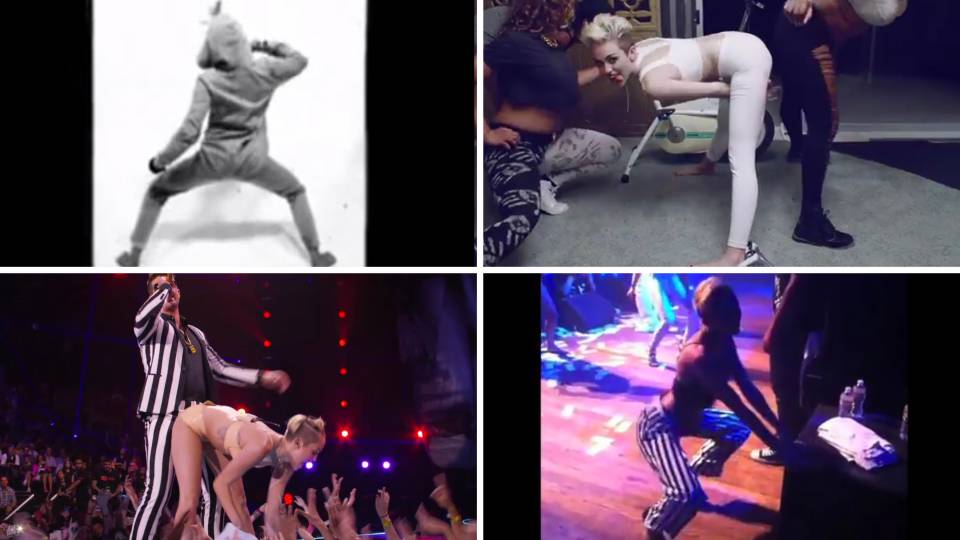 Is It Really Miley Under That Unicorn Onesie?
First there was that "is it or isn't it Miley" video where she twerked her little heart out while donning an oversized unicorn onesie. The video features mostly Miley's backside as she shakes what her momma gave her to J-Dash's "WOP." The viewer doesn't know for sure that it's Miley doing the dirty dancing until the very end where she takes off the hoodie and (surprise!) sticks out her tongue at the camera as she walks off.
Shortly After THAT Video Went Viral... This Happened
Miley showed up to a Juicy J concert soon after her twerking video in a unicorn costume went viral. The world had already seen her twerking skills, so she decided to put those skills on display once again when Juicy J invited her on stage as he performed "Bandz a Make Her Dance." That's when we were tipped off that this might be Miley's new go-to dance move.
'We Can't Stop' Music Video Marks the Beginning of the End
Miley dropped her new music video for "We Can't Stop" and all hell broke loose. There's big, weird, dancing teddy bears, excessive gum chewing, and (you guessed it!) a healthy dose of twerking. One thing was for sure. The video set tongues wagging. Our hosts saw this as the young popstar's desperate attempt to get attention and shed her goody-goody Hannah Montana reputation. Shock factor? Check! The decline of twerking? Also, check!
Then, the Last Shoe Drops at the MTV VMA Awards
Even if you didn't catch this year's MTV Video Music Awards Show, chances are you've seen clips of Miley's disastrous performance with Robin Thicke. Viewers were shocked, to say the least. Even the Minions were appalled. Billy Ray's little girl took to the stage wearing skin-colored latex underwear and a bra, leaving audiences in the venue and at home with mouths agape. And you knew she would bust out the twerk! But this time she involved Robin Thicke in her vulgar dance moves. Eww?
Now, Twerking Is All but Dead Thanks to Miley's Abuse and Overuse
The verdict is in and twerking is dead... thanks to Miley Cyrus. NMA World Edition breaks it down with a visual journey of twerking's decline and how Miley Cyrus was directly involved. What was once a fun, interesting, and fascinating dance move has now become something for the masses and that just ain't cool. Thanks a lot, Miley! #RIPtwerking