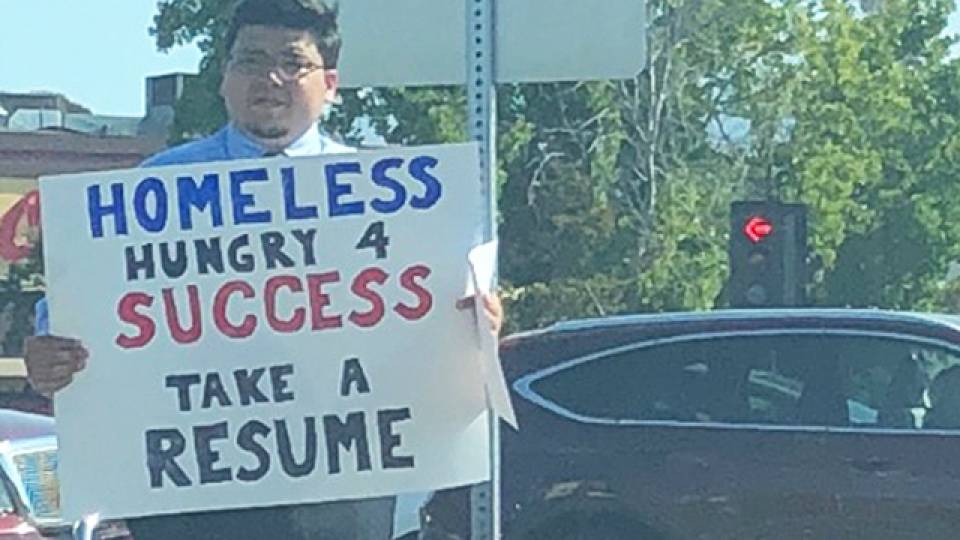 Ah, the power of social media and a very determined man not willing to give up on his dreams! David Casarez had a series of very bad luck before ending up on the streets in Mountain View, California. The accomplished Texas A&M graduate was a web developer at General Motors before cashing out his 401k and moving to Silicon Valley to work on opening up his own startup before completely running out of money in June, according to the New York Post. In total, he lived in his car for more than a year before it was reposessed, after which Casarez moved to a park bench.
After going on interviews and doing freelance work with no real success, he decided to do something drastic, heading to a street corner with a special sign. It wasn't one of those typical calls for help from a homeless individual standing on the side of the road, and @jaysc0 couldn't help but take notice and share it on her Twitter account.
Today I saw this young homeless man asking for people to take a resume rather than asking for money. If anyone in the Silicon Valley could help him out, that would be amazing. Please RT so we can help David out! pic.twitter.com/ewoE3PKFx7

— FullMakeup Alchemist (@jaysc0) July 27, 2018
Soon after, her post went completely viral, garnering attention from people all over the world.
Casarez told KGO-TV he's received more than 200 job offers from companies such as Google, Pandora and Netflix. It remains to be seen where Casarez will end up, but his options are endless.
"A product manager from Bitcoin.com was wondering if I could work remotely or if I want to relocate to Tokyo," he told the New York Post.