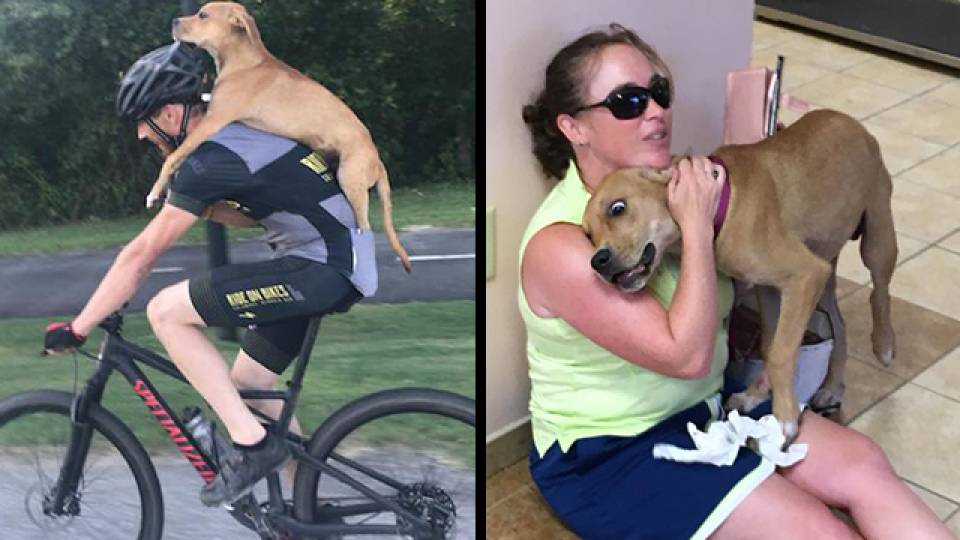 It's an incredible story — an injured stray dog is rescued by a biker, brought to an animal emergency center and promptly adopted into a loving home. It all started when Jarrett Little noticed a stray dog injured with a broken hind leg and toe. After giving the 5-month-old Great Dane mix some snacks and water, Little drove 7 miles with the dog on his back to get medical help in downtown Columbus, Ohio.
The entire tale really is based on impeccable timing mixed with a little bit of fate! Little usually rides with a faster group that flies by the area where the pooch was found, but this time he was going a bit slower on his mountain bike. Also, at the same time as Little made it back, Andrea Shaw happened to be walking by while in town on business from Maine.
"She walked by the instant we pulled up," Little said. "Had I been five minutes later or five minutes earlier they might not have crossed paths," he told the Ledger-Enquirer.
Both Andrea and the dog were immediately taken by each other, and she called her husband to let him know they were getting another pet.
Now nicknamed Columbo to represent the city he was found in, the pup had surgery and then started off on a journey to Maine.
Since arriving, Columbo has had no problem adjusting to his new life!
Here's hoping Columbo has a speedy recovery!