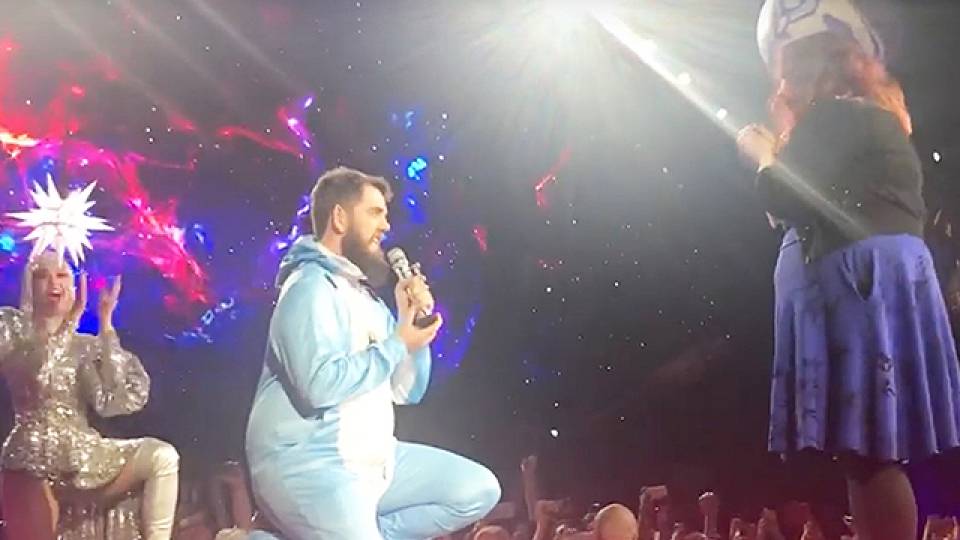 How do you shower a Katy Perry superfan with some love? Propose to her at one of Katy's shows with the singer's assistance! That's exactly what Grant Alexander did for his now fiancé Stephanie Chin. Stephanie has been following Katy around the world during her Witness: The Tour series and was in Auckland, New Zealand on this fateful night. Grant had told Stephanie he was in Melbourne, Australia, but he secretly arrived in the city before the concert, according to The New Zealand Herald. Grant got to go backstage and meet Katy, and the singer also gave him a Left Shark costume to put on. During the show, Katy "randomly" picked him to come on stage and asked if he wanted to bring anyone up with him.
Fellow concertgoer Elysa Bactol captured the emotional proposal all on camera. Afterward, Stephanie and Grant couldn't believe what had just happened!
WARNING: Adult language used.
ARE YOU FUCKING KIDDING ME? @XANDER85 & I ARE ENGAGED AND @KATYPERRY WAS IN ON IT THE WHOLE TIME. pic.twitter.com/VughOYUErt

— LILITHIA (Stef) (@lilithia) August 21, 2018
#MyWitnessEra has been incredible. Witnessed 8 shows; x1 Bangkok, x1 Adelaide, x3 Melb (M&G) x1 Syd & x2 in Auckland. I've made so many friends this era and at the final show @xander85 proposed to me! I am so grateful to @katyperryforum and @katyperry. My heart is so full. pic.twitter.com/krI89ji3Pt

— LILITHIA (Stef) (@lilithia) August 21, 2018
THANK YOU TO @lilithia!! The love of my life and fiancé AHHHHHHH!!!
I'm still just as shook as you are that it was such a successful surprise! I can't believe @katyperry did this for us! I LOVE YOU STEF

— xander85 (@xander85) August 22, 2018
Congratulations to a couple of KatyCats and a very sweet couple!