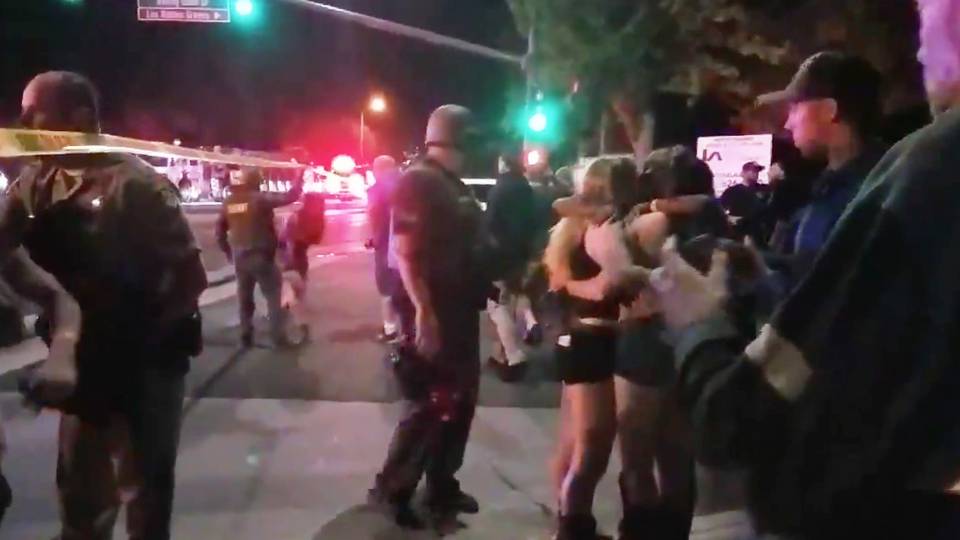 At least 12 people, including a 29-year veteran of the Ventura County Sheriff's Department, are dead after a 28-year-old man walked into the Borderline Bar & Grill and shot them. The bar in Thousand Oaks, California was having its Wednesday country college night, according to CNN. The gunman has been identified as Ian David Long, a former Marine. He previously had run in with the law, but the motive for the shooting is not yet known. Long killed himself inside the bar before the main police force arrived on scene.
Outside of the bar, survivors and loved ones gathered were in shock.
Some tearful reunions among those presumably (though unconfirmed) at Borderline or who knew them at Borderline. #Borderline #BorderlineShooting #ThousandOaksShooting @vcstar pic.twitter.com/0Ik19qFyGa

— Jeremy Childs (@Jeremy_Childs) November 8, 2018
Mitchell Hunter, 19, of Simi Valley, has bloodied hands after breaking a window with a chair to get out of Borderline after he heard shots on the dancefloor. #Borderline #Borderlineshooting pic.twitter.com/x3MX1rkNDf

— Jeremy Childs (@Jeremy_Childs) November 8, 2018
Survivor of Thousand Oaks mass shooting describes horror of the moment shots rang out: "Everyone just yelled, 'run, here's coming.'" https://t.co/9jPoYE06Ro pic.twitter.com/RmSb9hJjd0

— ABC News (@ABC) November 8, 2018
One woman in tears said her friends got bar stools to smash the windows so they could escape as gunfire erupted in the Borderline Bar & Grill in Thousand Oaks https://t.co/3gvXBtsEIT pic.twitter.com/vx25QXdUDa

— ABC7 Eyewitness News (@ABC7) November 8, 2018
"Get down, get out, let's just move, we need to get out of here."

Shooting survivors recount chaos and panic as shots rang out in Southern California bar: https://t.co/4QOKtxlqP4 pic.twitter.com/cV1N14WGx2

— ABC News (@ABC) November 8, 2018
"So I grabbed a barstool. We went through the window."

Borderline Bar patron Matt Wennerstrom, describes breaking a window and helping other patrons to safety during a mass shooting that left at least 12 dead. https://t.co/yD5AAXHY1Z pic.twitter.com/6WLE8i8ui0

— ABC News (@ABC) November 8, 2018
Fallen Sgt. Ron Helus was honored Nov. 8.
SOMBER SALUTE: Hundreds of mourners joined first responders as a procession moved the body of slain Ventura County Sheriff's Office Sgt. Ron Helus; the 29-year veteran was killed responding to the bar massacre in Thousand Oaks, California. More tonight. https://t.co/fl6GaMD02D pic.twitter.com/12Utfm26XM

— World News Tonight (@ABCWorldNews) November 8, 2018
Above the 101 freeway in Thousand Oaks to honor a hero who gave his life by running towards gunfire to save others. RIP @VENTURASHERIFF Sgt. Ron Helus pic.twitter.com/Zhx4c28YTe

— LAPD HQ (@LAPDHQ) November 8, 2018