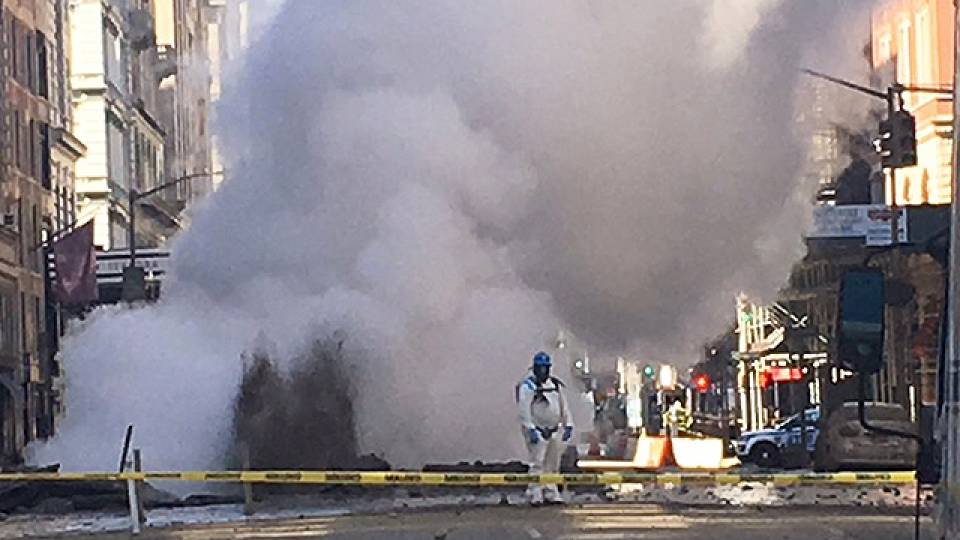 It's the size of a city bus or three lanes of traffic. Manhattan's Flatiron District was rocked by a strange explosion around 6:40 a.m. Thursday when a steam pipe installed in 1932 suddenly burst, covering the streets with huge billows of smoke. Five people suffered minor injuries but did not go to the hospital, according to ABC News.
#FDNY members are on scene of a 3-alarm steam explosion, 141 5th Ave Manhattan. There are currently no injuries reported. (photo cred: @nycoem) pic.twitter.com/4jeFZayR9T

— FDNY (@FDNY) July 19, 2018
What is going on in #Flatiron #NYC?! pic.twitter.com/mkE7Pkfm5x

— Jessica Zambelli (@JessicaZambelli) July 19, 2018
Just your average morning seeing a massive cloud of smoke on the way to work. Apparently it's a steam pipe explosion? Is that a big deal? Good luck on your commute anyone going to Flatiron. pic.twitter.com/DkBYWsh48Z

— Jerry 20P (@SalesforceJerry) July 19, 2018
Fire in the Flatiron District. 5th Ave and 21st St. pic.twitter.com/lXSMxDaMD2

— Matt Wade (@HiddenNYCFoodie) July 19, 2018
Steam pipe explosion #nyc #Flatiron pic.twitter.com/W24XDBsa4S

— Justin Kehoe (@Kehor33) July 19, 2018
Steam pipe explosion near the #Flatiron Firetrucks and ambulances blocking off the area. pic.twitter.com/02J8khsyXM

— Brisa (@theotherbrisa) July 19, 2018
Almost 30 buildings were evacuated due to possible asbestos contamination. One hundred firefighters were also decontaminated and as well as several civilians in the area at the time.The cause of the rupture is still under investigation.