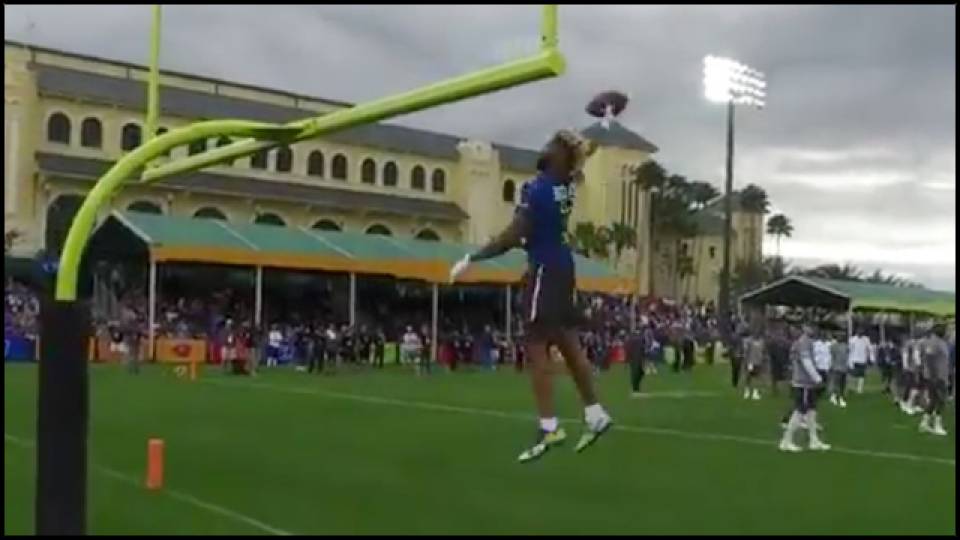 It appears that NFL Players just want to have fun. Videos are popping up all over social media featuring their silly antics off the field.
Los Angeles Rams punter Johnny Hekker teamed up with two others to pull off this amazing triple punt trick shot.
For it's one, two, three punts you're out at the old ball game!!!!! #Precision pic.twitter.com/EubVKevG7S

— Johnny Hekker (@JHekker) January 27, 2017
Oakland Raiders punter Marquette King celebrated after nailing this practice punt.
Raindrop!!! pic.twitter.com/YNJdhKBI6p

— Marquette King (@MarquetteKing) January 27, 2017
New York Giants wide receiver Odell Beckham Jr. decided to try his foot at punting. He also pretended the field goal post was a basketball hoop and made a sweet slam dunk.
Is there anything @OBJ_3 CAN'T do?

Because now he's punting at the #ProBowl. pic.twitter.com/aUZD3ezM6F

— NFL (@NFL) January 27, 2017
.@OBJ_3 channeling his inner @mrvincecarter15 #ProBowl pic.twitter.com/FLmOMnL8S5

— NFL Network (@nflnetwork) January 27, 2017
Dallas Cowboys quarterback Dak Prescott sunk this impressive shot into a basketball hoop they affixed to the field goal post.
.@dak casually draining from deep!

#ProBowl pic.twitter.com/NtbQMZfMgM

— NFL (@NFL) January 27, 2017
Several Pro Bowlers played a friendly game of dodgeball.
NFL players playing...Dodgeball. The Pro Bowl Skills Showdown airs Thursday on ESPN at 7 ET. pic.twitter.com/g2dtIUfbOz

— NFL on ESPN (@ESPNNFL) January 26, 2017
Minnesota Vikings cornerback Xavier Rhodes decided to audition for the Matrix with this slow motion one-handed interception.
.@XavierRhodes29_ making the sweet one-handed INT...

In slo-mo! #ProBowl pic.twitter.com/k72PSwfI3m

— NFL (@NFL) January 27, 2017
Seattle Seahawks wide receiver Doug Baldwin and cornerback Richard Sherman decided to test out their martial arts skills.
.@DougBaldwinJr vs. @RSherman_25...

Interesting defensive tactic, Sherm. #ProBowl pic.twitter.com/shIK62jXmi

— NFL (@NFL) January 25, 2017