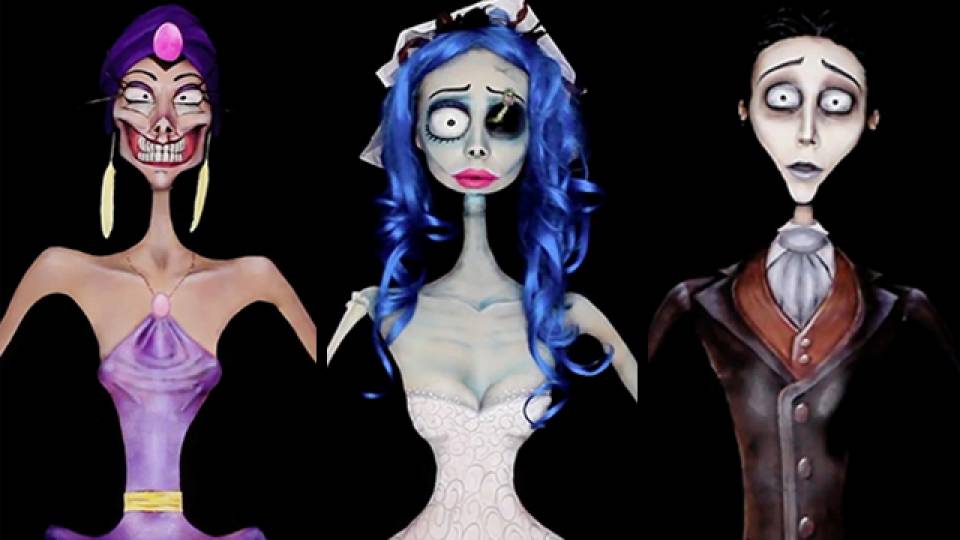 Serbian body paint artist Mirjana "Kika" Milosevic is known for her out-of-this-world transformations. She burst on to the scene in 2016 when her wooden puppet video won the optical illusion category of the NYX Face Awards. Here's just a few of our favorites from this year!
Carved Bull Skull
We don't know where Kika gets her makeup ideas, but they are other-worldly. You'll be blown away by this one! Her entire torso is no longer recognizable behind the incredible bull skull artwork.
Corpse Bride
For those die-hard Tim Burton fans out there, you are going to absolutely love this transformation. Kika takes Victoria's character from the movie "Corpse Bride" and paints herself to look identical to the sad lost soul. From the worm crawling out of her eye socket to the color of her lips, Kika is spot on. She also recreates Victoria's other half, Victor the groom. Now we need to go watch that movie again!
Hollow
Kika, where are you at? We can't see you! Watch Kika disappear into a headless torso before your eyes.
Human Braid
In Kika's language, kika means braid. She literally has herself in knots as she gives the illusion of "braiding" her body like hair. The final transformation is worth a double-take!
Snake
Kika shows us how to get this snake-like look. For those of us not as talented in the body paint department, we might not get it spot on but hopefully close. Your friends would surely freak at the sight of you! Of course, the snakes are optional...
Yzma
In the good ol' days of VHS did you ever watch Disney's "Emperor's New Groove?" Well, no matter how you watched it you will appreciate Mirjana Kika Milosevic's latest body paint illusion of character Yzma. She gets this down to the eyelashes!
Kika doesn't only transform herself, she works on others! Check out her holiday version of Gru from "Despicable Me" on a friend's back. She also makes a skin suit complete with a zipper on a guy's chest.
Click here to see more of Kika's videos featured on our show!