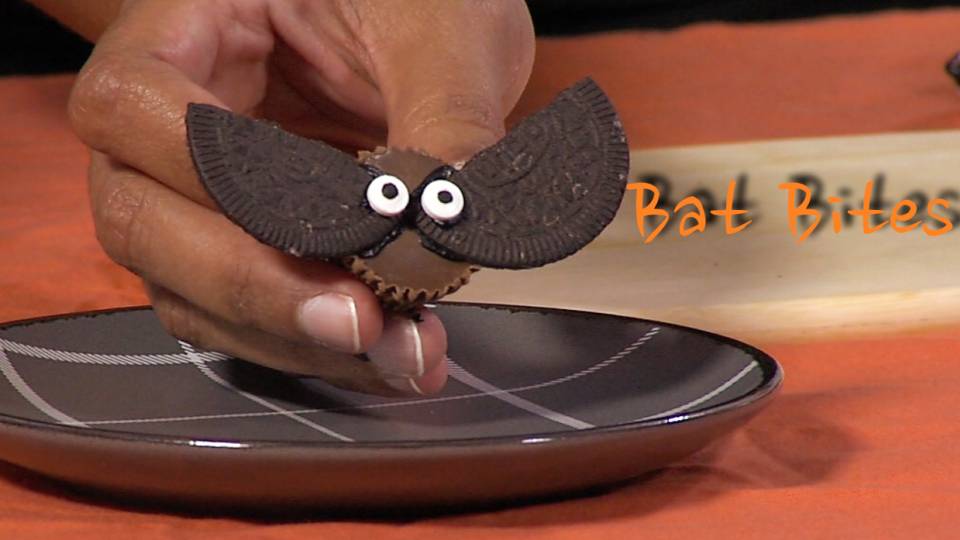 Our trusty foodie and DIY correspondent Jessica "Cheese" Hord treats
RightThisMinute
to spooky good oreo cookie and mini peanut butter cup bat bites. This easy 4-ingredient recipe will be a real hit with your trick-or-treaters.
You'll Need:
-- Reese's Peanut Butter Cup Miniatures (NOT the tiny, tiny ones.)
-- Oreo Thins
-- Pre-Made Icing Ready to Pipe (A store-bought black icing already in a squeezable bag is perfect for this!)
-- Candy Eyeballs
Instructions:
1. Remove Reese's from all wrapping.
2. Separate and remove white filling from each Oreo cookie.
3. Cut each cookie in half.
4. Put a dot of your icing on back tip of a cookie half and gently press to the left side of the Reese's. Repeat for the right side.
5. Put a dot of frosting on the back of each eyeball and stick both in the middle of the Reese's. You're done!
Now all that's left to do is to enjoy this delicious little treat while you watch RightThisMinute!