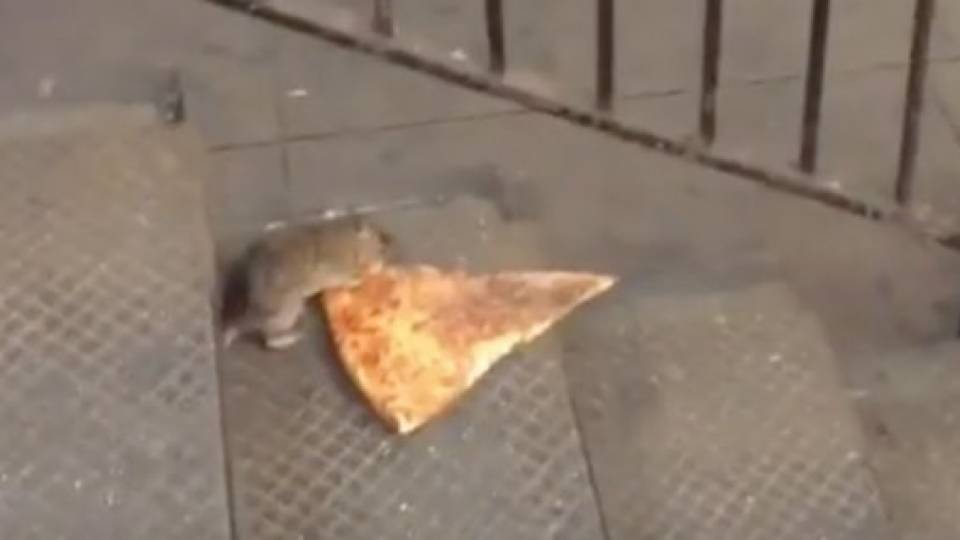 Oprah Winfrey, Elivis Presley, Pizza Rat. If you thought a rat couldn't capture the hearts of millions, then you never met this persistent little creature. He might be small in stature, but he's built with pure awesomeness. No New York City subway stair is too steep to keep this little guy from his pizza!
Matt Little, a comedian in NYC, was the one who finally gave Pizza Rat the attention he deserved. A true inspiration to us all. No slice is too big to carry! No dream is too big to achieve!
Thank you, #PizzaRat pic.twitter.com/4lQXRLvRes

— BuzzFeed Animals (@BuzzFeedAnimals) September 21, 2015
And you know darn well he went back for that slice!
In case you're curious, I went back for the slice. I'm a New Yorker, dammit.

— NYCPizzaRat (@NYCPizzaRat) September 21, 2015
The Internet and celebrity (Twitter) world has embraced the now iconic pizza-loving rodent with open arms.
I'm impatiently sitting by the phone to see if I get hired as the voice of #PizzaRat

— Gilbert Gottfried (@RealGilbert) September 21, 2015
We are too Mr. Gottfried, we are too.
Biden/Pizza Rat 2016.

— billy eichner (@billyeichner) September 21, 2015
Pizza for all Americans?
pizza is irresistible, just ask #PizzaRat https://t.co/DSeHm8G0wR

— Fall Out Boy (@falloutboy) September 22, 2015
Truer words have never been spoken.
obsessed with #PizzaRat

— Andy Cohen (@Andy) September 21, 2015
Ditto.
just left my wife and kid to start a new life with pizza rat.

— Dad (@markhoppus) September 21, 2015
Ok, ok that's a little much, but he does have his own soundtrack!
The soundtrack to Pizza Rat's life, probably http://t.co/uFGnirWinV pic.twitter.com/O26EzMVmCD

— Mashable (@mashable) September 22, 2015
Looks like Disney's even cashing in on the phenomenon. Mickey Mouse who?
From our hearts into the Toy Box. #PizzaRat #DisneyInfinity pic.twitter.com/FXBNgShnYf

— Disney Infinity (@DisneyInfinity) September 22, 2015
Welp, we know what we're going to be for Halloween!
New York's hottest Halloween costume has arrived #pizzarat pic.twitter.com/AhWEPCcBbn

— Brian Ries (@moneyries) September 21, 2015
At the end of the day, whether you're a fan or not, you have to commend Pizza Rat for turning someone's horrific act into something spectacular.
The most upsetting part of the #PizzaRat story is that someone on earth threw away a perfectly good slice of pizza

— DiGiorno Pizza (@DiGiornoPizza) September 22, 2015
All in all, we just want to thank you Pizza Rat for teaching us what it means to chase your dreams.
Good job, #PizzaRat ... We're proud of you pic.twitter.com/bSmR4dDkI7

— BuzzFeed (@BuzzFeed) September 21, 2015
You will forever and always be our spirit animal!