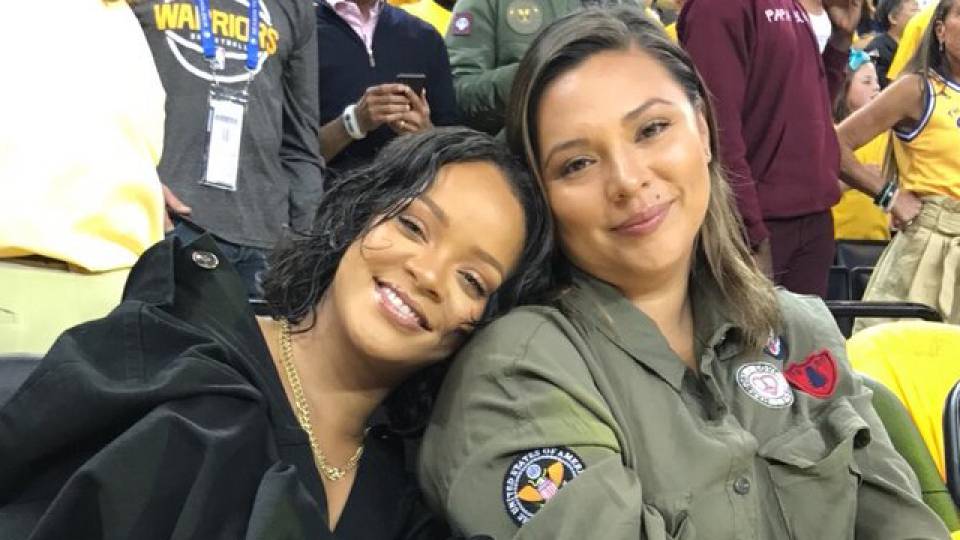 WARNING: Adult language used.
Rihanna raised a ruckus at Game 1 of the NBA Finals between the Cleveland Cavaliers and the Golden State Warriors. Fans caught her using some naughty language behind the scenes.
Rihanna: "The King is still King, b----!" via @rachelnmarcus pic.twitter.com/woA5DDP87y

— Arash Markazi (@ArashMarkazi) June 2, 2017
Rihanna: "it doesn't matter, bitch", as she passes Cavs locker room. pic.twitter.com/6DJDBL25Gj

— Tony Zarrella (@TonyZ19) June 2, 2017
Fans also shared footage of her dabbing as they watched the game at home.
Rihanna's Dab >>> Cleveland's Game 1 peformance #NBAFinals pic.twitter.com/CvjYJtGq9y

— Aaron Dodson (@aardodson) June 2, 2017
The singer sat courtside with professional golfer Jennifer Rosales.
@rihanna & @JennnRosales courtside for Game 1 of the #NBAFinals pic.twitter.com/mRQql9idfc

— NBA (@NBA) June 2, 2017
Sports analyst Jeff Van Gundy got a little giddy when she walked in front of him.
"Rihanna just walked in front of me." Jeff Van Gundy, the realest, out here willing to risk it all. pic.twitter.com/z2jTfiBYrh

— Sean Craig (@sdbcraig) June 2, 2017
Her appearance even had players like Kevin Durant a little distracted. Durant allegedly stared her down after a three-pointer and reporters brought it up at the press conference after the game.
Reporter: "...you looked towards the crowd towards Rihanna. Was that on purpose?"

KD: "I dont even remember that."#NBAFinals pic.twitter.com/P4AIN2zyun

— NBA on TNT (@NBAonTNT) June 2, 2017
Kevin Durant obviously doesn't give a damn about Rihanna. Hit that three in front of her and then stared her down. #NBAFinals pic.twitter.com/m9chcAwgoM

— Renato Mazariegos (@RPMSports18) June 2, 2017