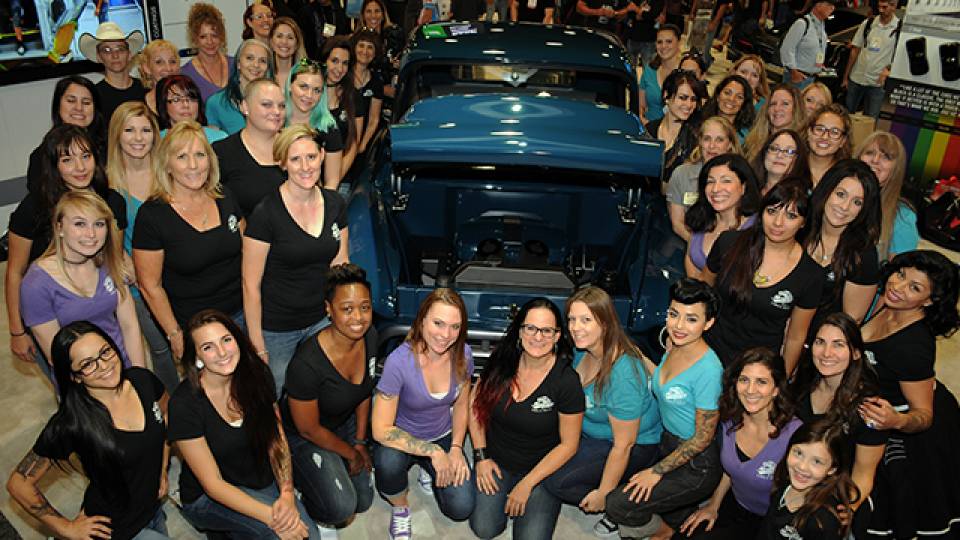 Women from all across the country are experiencing a sense of accomplishment because of the much-anticipated reveal of the Chevy Montage. Over the last 10 months, over 90 women came together to build a 1957 Chevrolet pickup truck, which features a BMW engine. Bogi Lateiner, the "All Girls Garage" star, launched this project in Jan. 2017 to encourage women to believe they have a place in the auto industry, which is so male-dominated that less than 2 percent of techs and skilled trade workers are women. From the novice to the professional, women from all walks of life contributed to this inspiring project.
We shared a glimpse with you back in April when Charity, Gayle and Christian visited Bogi's Garage to pick up power tools and get to work. Now, the all-woman build is finished. On October 31, 2017, the truck was finally unveiled in Las Vegas, Nevada at SEMA, the premier automotive show in the United States. The truck's gorgeous color, Tenacious Teal, was one of three custom BASF paint colors mixed specifically for the Chevy Montage and was voted on by fans in a public poll.
From the initial moment of rolling the truck into the garage on day one through all fabrication, paint, assembly and wiring work, every woman involved made this ambitious project what it is. After seeing the success these girls had, there's no doubt women belong in the automotive industry. Nice work, ladies!
If you'd like to see the Chevy Montage in-person, you may get a chance to when it goes on tour next year. Follow @bogisgarage on Instagram for details on when and where that kicks off.