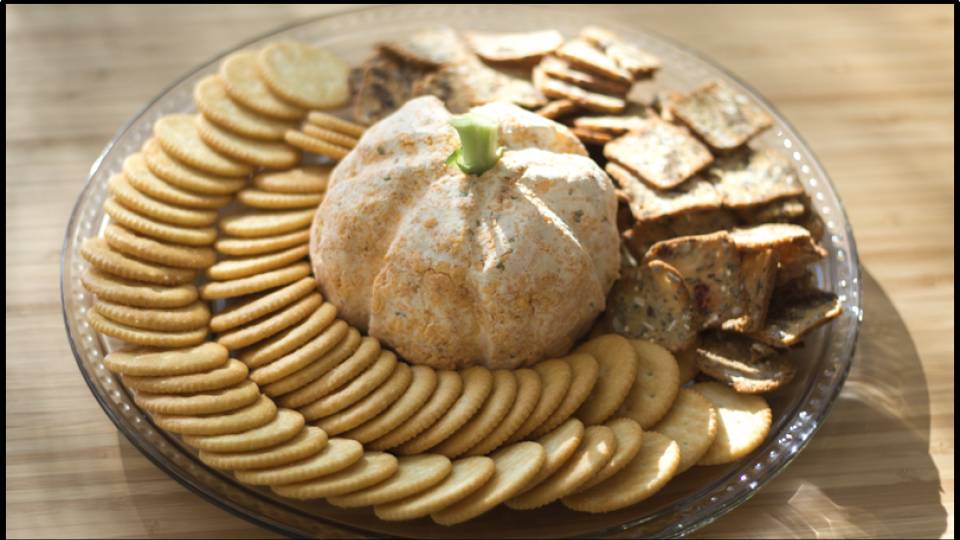 The leaves a turning colors, everyone's set their clocks back for Daylight Savings, everything has a hint of pumpkin flavoring — yep, Fall is in full swing. But what if your house still feels suspiciously like Summer? Well, never fear; Jessica Hord has got you covered with this deliciously simple Pumpkin Cheese recipe. With just a few recipes, you'll be celebrating Fall in no time.
Recipe
You'll Need:
-- 2 (8 oz.) Packages of Cream Cheese, Softened
-- 1 (8 oz.) Block of Sharp Cheddar Cheese
-- 1 Tsp Onion Powder
-- 1 TB Dried Chives or Freshly Minced Chives
-- 2 Tsp Paprika
-- 1/2 Tsp Ground Red Pepper (Cayenne)
-- 1 Broccoli Stalk
-- Crackers (I used Ritz & Cranberry Oat Multigrain Crisps)
Instructions:

1. Shred sharp cheddar cheese and set aside.
2. Combine cream cheese, onion powder, chives, paprika and red pepper.
3. Add sharp cheddar cheese & combine.
4. Roll into ball and cover. Refrigerate for up to 2 hours or however long it takes for ball to firm enough to shape.
5. Smooth entire surface with a spoon or fingers and then use a rounded wooden spoon or fingertips to create vertical grooves to resemble a pumpkin. Make sure grooves meet at top.
6. Remove the florets from the broccoli (you can reserve these for another use) and cut a piece of the broccoli stalk for your pumpkin stem.
7. Press stem into the top of the cheese-ball where all the grooves meet. Serve with crackers. You're done!
See what RightThisMInute hosts thought below:
*Inspired By The 36th Avenue