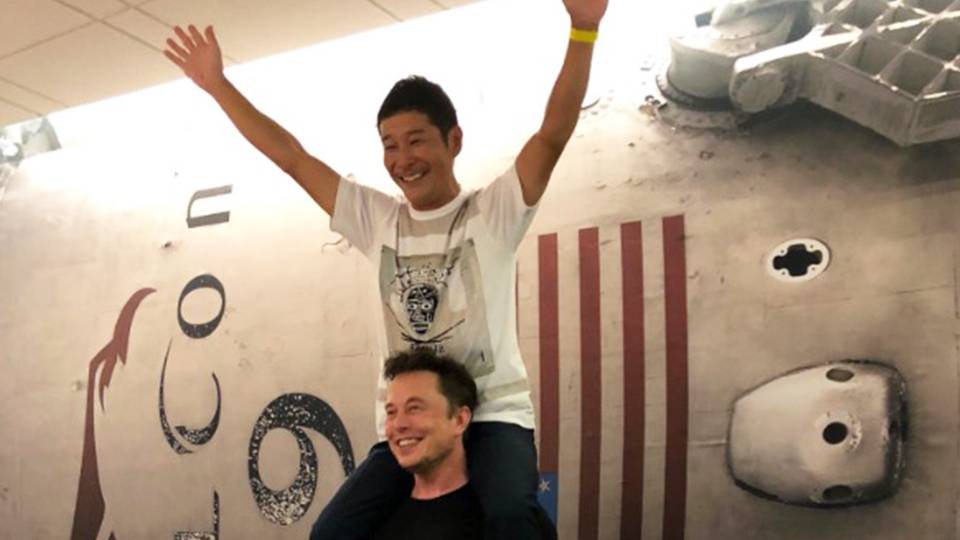 Until now, SpaceX rockets haven't had any private passengers, but that could change by 2023. The company just announced that Japanese billionaire Yusaku Maezawa is to be the first to fly to the moon on the Big Falcon Rocket.
SpaceX has signed the world's first private passenger to fly around the Moon aboard our BFR launch vehicle—an important step toward enabling access for everyday people who dream of traveling to space. Find out who's flying and why on Monday, September 17. pic.twitter.com/64z4rygYhk

— SpaceX (@SpaceX) September 14, 2018
Hanging out with @yousuck2020 before the @SpaceX moon mission announcement pic.twitter.com/RTOwutzMtG

— Elon Musk (@elonmusk) September 18, 2018
Art-lover Maezawaka will bring artists along with him, according to ABC News.
First SpaceX passenger, Japanese billionaire Yusaku Maezawa, says he plans to head to the moon "with Earth's top artists."

"If Pablo Picasso had been able to see the moon up-close, what kind of paintings would he have drawn?" https://t.co/oNU1mAho8q pic.twitter.com/I17dJXy9JZ

— ABC News (@ABC) September 18, 2018
However, this isn't the first time SpaceX has said paid passengers would be going into space. Founder Elon Musk had earlier announced two people had put down a deposit to fly around the moon in the smaller Falcon Heavy rocket some time this year, but in June it was confirmed that wasn't happening. Here's hoping Maezawaka will get his chance and share his experience with us. So cool!