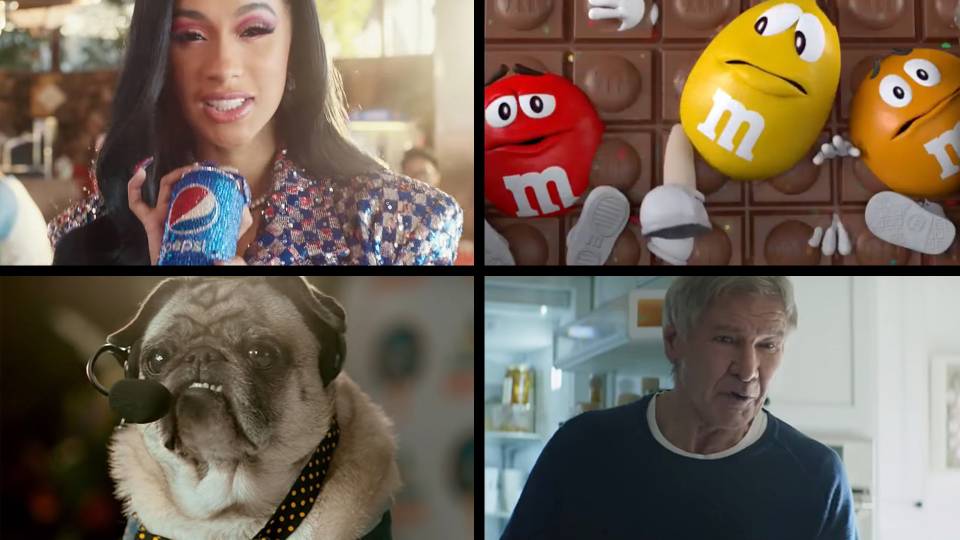 Super Bowl 53 is almost here, and commercials are starting to roll in before the big game. Check back as we update with more ads!
Amazon
Harrison Ford, Forest Whitaker and other stars make an appearance in this funny ad about Amazon Alexa fails.
Avocados From Mexico
Kristin Chenoweth is a judge for the "Human Canine Show," and you guessed it, the competitors win avocados.
Budweiser
Budweiser is now brewed with 100 percent renewable electricity from wind power.
Bumble
The dating app ad is teasing a new campaign starring Serena Williams.
Burger King
Burger King's only released teasers for now since the actual commercial will be playing during the game!
Coca-Cola
A Coke is a Coke no matter who or what is drinking it.
Colgate
Luke Wilson stars as the "Close Talker."
Doritos
Chance the Rapper and the Backstreet Boys team up to bond over the new Flamin' Hot Nacho Doritos. See an extended version here.
Expensify
The world's first Super Bowl commercial you can expense starring 2 Chains and Adam Scott.
Hyundai
Jason Bateman is the elevator operator bringing passengers to the floors of their nightmares.
Jeep
Jeep's "Big Game Blitz" features One Republic and an instrumental version of the national anthem, all set to images.
Lexus
Matt Leinart tests out Lexus' Quarterback Safety System Plus!
Mercedes-Benz USA
Cool commercial with an appearance from Ludacris! What if you had the power to change how things happen?
Michelob Ultra
Zoë Kravitz and ASMR, what could be better?
M&M's
Christina Applegate takes some very unruly passengers home from the grocery store.
Olay
Known for her role in the classic horror film "I Know What You Did Last Summer," Sarah Michelle Gellar stars in this commercial all about what you would do to get killer skin.
Pepsi
Steve Carrell, Cardi B and Lil Jon all think Pepsi is "More than OK."
Pizza Hut
Pizza Hut and The NFL go together like Goff and Gurley (from the Rams).
Planters
Mr. Peanut is always there in "crunch" time. Watch for an appearance by Charlie Sheen and Alex Rodriguez!
Pringles
Devices never get the chance to try Pringles stack creations!
Skechers
Tony Romo and his effortless life!
Skittles
Michael C. Hall stars in "Skittles The Musical" which will actually be performed one time only live in front of an audience the day of the Super Bowl.
Stella Artois
Sarah Jessica Parker and Jeff Bridges bring back their legendary characters, Carrie Bradshaw and "The Dude," outfits and all.
Toyota
College football star Toni Harris and Toyota's RAV4 Hybrid.
Turbo Tax
The debut of a very interesting and sensitive robot named RoboChild...