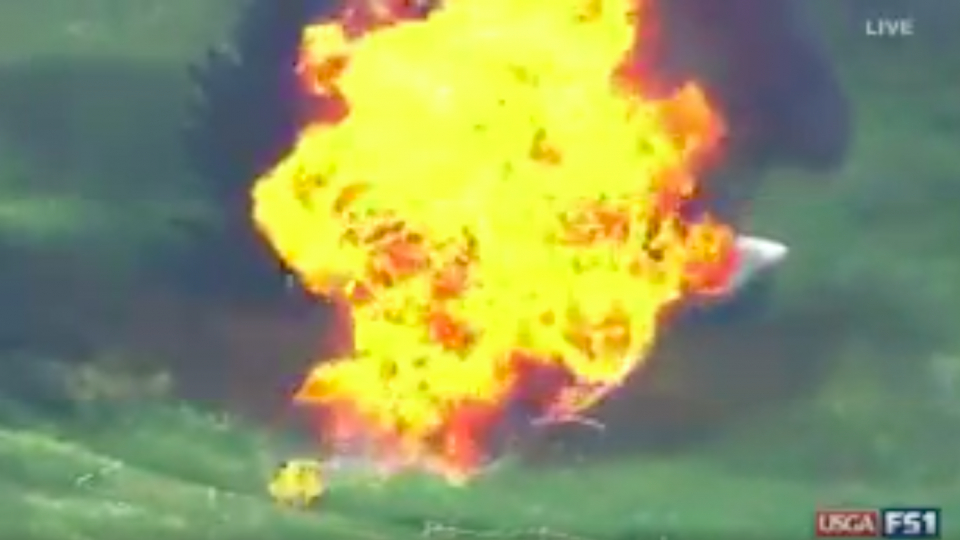 A pilot was injured after a blimp advertising the PenFed Credit Union crashed and caught fire at the U.S. Open in Erin, Wisconsin near Milwaukee. Local reports state that the blimp deflated before the crash. First responders were on the scene shortly after the crash. Footage shows the huge eruption of flames from the crash site.
Update: USGA releases statement, says blimp that crashed is unaffiliated with the #USOpen - https://t.co/AMbVMsMm5M (: @FOXSports) pic.twitter.com/GcUGHAO3hI

— GOLF.com (@golf_com) June 15, 2017
Witness shared footage of the blimp before and after it crashed.
Blimp going down at #usopen pic.twitter.com/dZ1uMbgWiW

— Mark Rogers (@Markwcm) June 15, 2017
Just got to the #USOpen and the blimp caught fire and crashed. People parachuted out. pic.twitter.com/1lDi3VkXCu

— madison seigworth (@msiggyy) June 15, 2017
Pretty sure I just watched the blimp crash at the #USOPEN! Hope everybody is ok! pic.twitter.com/OSOCSBF46p

— Adam Johnson (@Coach_Guy_AJ) June 15, 2017
The U.S. Open and Fox Sports reported that the blimp was not affiliated with their organizations. Goodyear Blimp also stated that the blimp was not affiliated with their company.
A blimp unaffiliated with the #USOpen or @FOXSports has crashed near Erin Hills. Pilot was injured and first responders are on the scene.

— U.S. Open (USGA) (@usopengolf) June 15, 2017
The #Goodyearblimp was not at the #usopen and our crew members are all accounted for.

— Goodyear Blimp (@GoodyearBlimp) June 15, 2017
Our thoughts and prayers are with those who were injured.

— U.S. Open (USGA) (@usopengolf) June 15, 2017
Our thoughts and prayers also go out to all those affected by today's events.

— Goodyear Blimp (@GoodyearBlimp) June 15, 2017