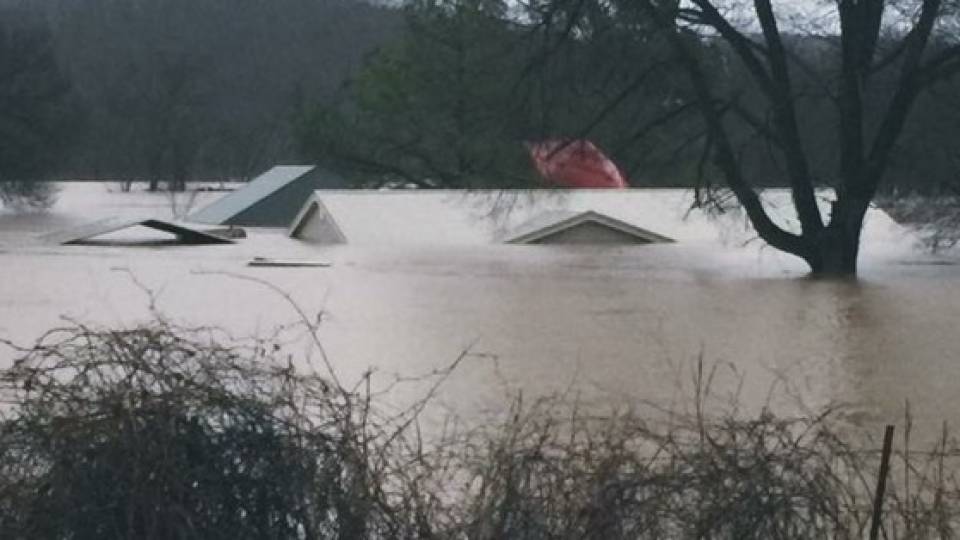 Winter Storm Goliath is technically over, but its affects are still being felt in the South.
It's being called a slow-motion disaster that's only going to get worse. The areas around Missouri, southern Illinois, Arkansas and eastern Oklahoma are flooding. Dozens have been injured and at least 22 have been reported to be dead. Many rivers, including the Mississippi, are continuing to swell.
Missouri Gov. Jay Nixon activated the National Guard Tuesday to support emergency staff.
Flooded pic.twitter.com/3qQevG4FvL

— Cooper (@coopersmith86) December 29, 2015
Outside the house in Lancashire right now.... #flood #Lancashire #apocalypse pic.twitter.com/PCokpofGYM

— Nic-Ho-Ho-opotamus (@jesuisturnip) December 26, 2015
BREAKING: GRDA sets off siren at Pensacola Dam opening more flood gates. #okwx @NewsOn6 pic.twitter.com/pwglQZZFeE

— Tony Russell (@TonyRussellTV) December 28, 2015
PHOTOS: Aerial images of flooding in West Alton, MO, where residents are being told to evacuate. @ksdknews pic.twitter.com/t77Ej7GOPW

— Rob Edwards (@RobertDEdwards) December 29, 2015
Pic of scene on other side of Vance Rd flood wall. Meramec River inundating area.#stl@fox2now pic.twitter.com/TYxN5DjfEJ

— Chris Regnier (@chrisregniertv) December 29, 2015
This is my backyard in Granite city illionis @FOX2now @KMOV @ksdknews #stlwx #ilwx #mowx #flooding pic.twitter.com/UdfXtvFrkP

— Bigfoot (@DIRTRACING4418) December 26, 2015